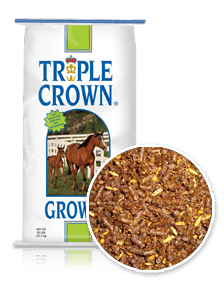 Triple Crown Growth
A textured feed for horses: specifically designed for weanlings, yearlings, and broodmares.
01/10/15- Growth Formula changes!
You may see that the guarantees listed on our website are different than on your bag.  All of our improvements to the Growth Formula meet or exceed the current guarantees you see on the bag.  We had an excess inventory of the old bag but didn't want to hold up getting the new product to market.  We apologize if this has caused some confusion for some of you.  Please call or email us with any questions you may have about the changes.
Summary of the Growth Formula update: Increased oat inclusion, increased vitamin, mineral, probiotic and enzyme guarantees.
Triple Crown Growth is an equine feed product for weanlings, yearlings, and broodmares fortified to provide protein, essential amino acids, vitamins, macro minerals, trace minerals, bacteria and enzymes. Triple Crown Growth utilizes the latest research regarding nutritional support for sound growth in horses. Supplying a diet low in soluble carbohydrates and high in fat and fiber has been demonstrated to support fast and sound growth in a superior manner compared to traditional grain based diets high in soluble carbohydrates.
Net Wt. 50 LBS (22.7 kg)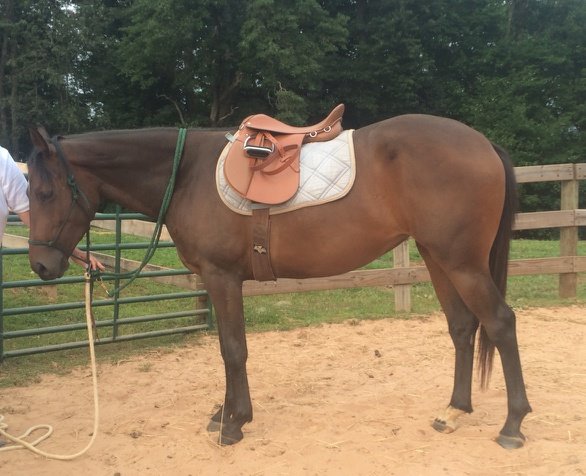 This product has sold out.
Guaranteed Analysis
Crude Protein (min.)
14.00%
Zinc (min.)
230 ppm
Lysine (min.)
0.80%
Manganese (min.)
160 ppm
Methionine
0.20%
Copper (min.)
65 ppm
Threonine (min.)
0.50%
Vitamin A (min.)
8,000 IU/lb
Crude Fat (min.)
10.00%
Vitamin D (min.)
1,500 IU/lb
Crude Fiber (max.)
15.00%
Vitamin E (min.)
225 IU/lb
Calcium (min.)
1.10%
Ascorbic Acid (min.)
55 mg/lb
Calcium (max.)
1.60%
Biotin (min.)
0.35 mg/lb
Phosphorus (min.)
0.60%
Lactobacillus Acidophilus
Fermentation Product (min.)
910 million CFU/lb
Magnesium (min.)
0.50%
Saccharomyces Cerevisiae
Yeast Culture (min.)
1750 million CFU/lb
Iron (min.)
175 ppm
Cellulase (Trichoderma
Longibrachiatum
Fermentation Extract) (min.)
170 CMC-ase Units/lb
Potassium (min.)
1.10%
Protease (Bacillus Subtilis
Fermentation Extract) (min.)
0.6 Northrup Units/lb
Selenium (min.)
0.65 ppm
NSC
19.2%
Ingredients
Whole Oats, Cane Molasses, Dehulled Soybean Meal, Wheat Middlings, Dehydrated Alfalfa Meal, Soybean Hulls, Soybean Oil, Shredded Beet Pulp, Distillers Dried Grains, Heat Processed Soybeans, Ground Limestone, Monocalcium Phosphate, Dicalcium Phosphate, Salt, Magnesium Oxide, Yeast Culture, Hydrolyzed Yeast, Hydrated Sodium Calcium Aluminosilicate, Dried Lactobacillus Acidophilus Fermentation Product, Dried Enterococcus Faecium Fermentation Product, Anise Seed, Fenugreek Seed, Dried Trichoderma Longibrachiatum Fermentation Extract, Dried Bacillus Subtilis Fermentation Extract, Zinc Amino Acid Complex, Manganese Amino Acid Complex, Kelp Meal, Copper Amino Acid Complex, Lecithin, Iron Amino Acid Complex, Magnesium Proteinate, Selenium Yeast, Stabilized Rice Bran, Calcium Carbonate, Vitamin E Supplement, Flaxseed, Ascorbic Acid (source of Vitamin C), Niacin Supplement, Biotin, Vitamin A Supplement, Thiamine Mononitrate, Beta Carotene, Calcium Pantothenate, Riboflavin Supplement, Pyridoxine Hydrochloride, Vitamin B12 Supplement, Vitamin D3 Supplement, Choline Chloride, Menadione Sodium Bisulfite Complex (source of Vitamin K activity), Folic Acid, Sodium Bicarbonate, Sodium Sesquicarbonate, Ferrous Sulfate, Zinc Sulfate, Manganese Sulfate, Copper Sulfate, Cobalt Sulfate, Ethylenediamine Dihydroiodide, Brewers Dried Yeast, L-Lysine, Monosodium Phosphate, Lignin Sulfonate, DL-methionine, DL-methionine Hydroxy Analog, (Propionic Acid, Sodium Benzoate, Potassium Sorbate (Preservatives)). Free from Restricted Ruminant Protein Products per Title 21, CFR 589.2000/2001.
Feeding Directions
Triple Crown Growth should be fed to growing horses along with free access to good quality pasture and/or hay, fresh clean water and plenty of free exercise. For nursing foals, feed 1% of body weight up to 400 lbs. For weanlings and older, the amount of Triple Crown Growth fed daily should be adjusted to maintain a moderate body condition level. If not sure how much to feed, begin with 6 - 8 pounds per day divided into as many feedings as feasible and then adjust up or down depending upon the needs of the individual horse. If feeding less than 5 pounds of Triple Crown Growth on a regular basis due to easy maintenance of desired body condition then 1/2 to 1 pound per day of Triple Crown 30 Supplement should also be fed in combination with Triple Crown Growth as means to insure adequate mineral and vitamin intakes to support sound growth. For Ponies, feed half of the recommendations listed above for horses.

NOTE: Provide plenty of fresh, clean water at all times. Keep product fresh in cool, dry storage. Examine product daily for mold or insect contamination. DO NOT use product that is old, molded or insect contaminated.