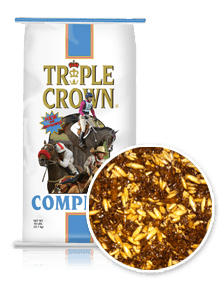 Triple Crown Complete
A beet pulp-based complete textured feed for mature performance horses.
Horses naturally eat fiber. But for years, grains (corn, barley and oats) have been the standard for horse feed–even though research has proven that the high-soluble carbohydrates in grain-based feeds increase the potential for colic, laminitis, hyperactivity, ulcers and cribbing. With its beet pulp based fiber content Triple Crown® Complete provides 12% protein, 12% fat and all the calories, vitamins and minerals of a grain-based feed–but with half of the potentially harmful soluble carbohydrates. Triple Crown® Complete has the versatility to be fed in any hay or pasture situation, when hay and pasture are plentiful or to help when they are short.
Net Wt. 50 LBS (22.7 kg)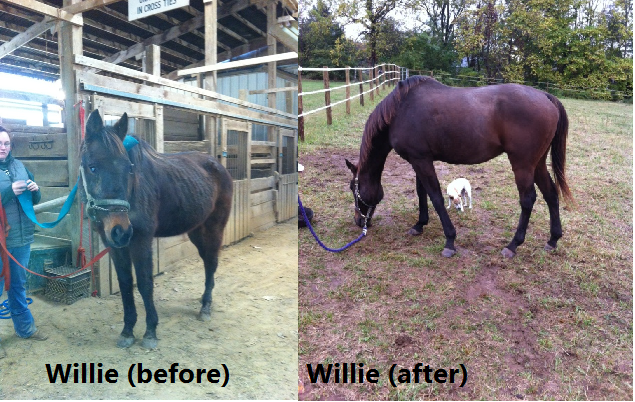 This product has sold out.
Guaranteed Analysis
Crude Protein (min.)
12.00%
Zinc (min.)
160 ppm
Lysine (min.)
0.60%
Manganese (min.)
100 ppm
Methionine
0.20%
Copper (min.)
50 ppm
Threonine (min.)
0.40%
Vitamin A (min.)
5,500 IU/lb
Crude Fat (min.)
12.00%
Vitamin D (min.)
750 IU/lb
Crude Fiber (max.)
15.00%
Vitamin E (min.)
150 IU/lb
Calcium (min.)
0.75%
Ascorbic Acid (min.)
40 mg/lb
Calcium (max.)
1.25%
Biotin (min.)
0.25 mg/lb
Phosphorus (min.)
0.45%
Lactobacillus Acidophilus
Fermentation Product (min.)
635 million CFU/lb
Magnesium (min.)
0.40%
Saccharomyces Cerevisiae
Yeast Culture (min.)
1271 million CFU/lb
Iron (min.)
250 ppm
Cellulase (Trichoderma
Longibrachiatum
Fermentation Extract) (min.)
125 CMC-ase Units/lb
Potassium (min.)
0.90%
Protease (Bacillus Subtilis
Fermentation Extract) (min.)
0.4 Northrup Units/lb
Selenium (min.)
0.50 ppm
NSC
20.6%
Ingredients
Shredded Beet Pulp, Cane Molasses, Whole Oats, Soybean Oil, Dehulled Soybean Meal, Wheat Middlings, Dehydrated Alfalfa Meal, Soybean Hulls, Distillers Dried Grains, Ground Limestone, Monocalcium Phosphate, Dicalcium Phosphate, Salt, Magnesium Oxide, Yeast Culture, Hydrolyzed Yeast, Hydrated Sodium Calcium Aluminosilicate, Dried Lactobacillus Acidophilus Fermentation Product, Dried Enterococcus Faecium Fermentation Product, Anise Seed, Fenugreek Seed, Dried Trichoderma Longibrachiatum Fermentation Extract, Dried Bacillus Subtilis Fermentation Extract, Zinc Amino Acid Complex, , Manganese Amino Acid Complex, Kelp Meal, Copper Amino Acid Complex, Lecithin, Iron Amino Acid Complex, Magnesium Proteinate, Selenium Yeast, Stabilized Rice Bran, Calcium Carbonate, Vitamin E Supplement, Flaxseed, Ascorbic Acid (Source of Vitamin C), Niacin Supplement, Biotin, Vitamin A Supplement, Thiamine Mononitrate, Beta Carotene, Calcium Pantothenate, Riboflavin Supplement, Pyridoxine Hydrochloride, Vitamin B12 Supplement, Vitamin D3 Supplement, Choline Chloride, Menadione Sodium Bisulfite Complex (Source of Vitamin K Activity), Folic Acid, Sodium Bicarbonate, Sodium Sesquicarbonate, Ferrous Sulfate, Zinc Sulfate, Manganese Sulfate, Copper Sulfate, Cobalt Sulfate, Ethylenediamine Dihydroiodide, Brewers Dried Yeast, L-Lysine, Lignin Sulfonate, Monosodium Phosphate, DL-methionine, DL-methionine Hydroxy Analog, (Propionic Acid, Sodium Benzoate, Potassium Sorbate (Preservatives)). (Free from Restricted Ruminant Protein Products per Title 21, CFR 589.2000/2001)
Feeding Directions
Triple Crown Complete is designed for mature horses. If feeding as a grain concentrate with hay, feed a minimum of 5 to 15 pounds per day for desired body condition. If replacing all the hay in the diet, feed 1% to 1.5% of body weight daily. Triple Crown Complete can be soaked with warm water for older horses with poor teeth, with respiratory problems, or for horses prone to choking.

NOTE: Provide plenty of fresh, clean water at all times. Keep product fresh in cool, dry storage. Examine product daily for mold or insect contamination. DO NOT use product that is old, molded or insect contaminated.