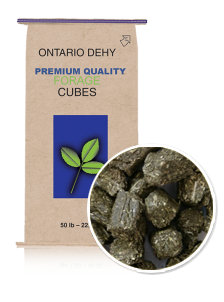 Ontario Dehy Timothy Balance Cubes For Equine Nutrition
Free of viable weed seeds.
A forage replacement or forage supplement for mature horses balanced for mineral fortification.
A consistent, convenient, low protein forage replacement or supplement. Made with our very best Premium grade Timothy hay, Beet Pulp and specific minerals. Specifically formulated for horses with Equine Cushings Disease, Insulin Resistance, Laminitis, and other related conditions where a nutritious diet low in non-structural carbohydrates is recommended.
Net Wt. 50 LBS (22.7 kg)
This product has sold out.
Guaranteed Analysis
Crude Protein (min.)
8.0%
Manganese (min.)
90 ppm
Crude Fat (min.)
1.8%
Copper (min.)
30 ppm
Crude Fiber (max.)
35.0%
Zinc (min.)
90 ppm
Calcium (min.)
0.5%
Iodine (min.)
0.8 ppm
Calcium (max.)
0.8%
Selenium (min.)
0.2 ppm
Phosphorus (min.)
0.3%
Moisture (min.)
12.0%
Magnesium (min.)
0.3%
Ingredients
Timothy; Beet Pulp; Calcium Hydroxide; Monosodium Phosphate; Magnesium Oxide; Copper Sulfate; Zinc Sulfate; Manganese Sulfate; Sodium Selenite; Calcium Iodate.
Feeding Directions
Feed at 1.5% to 2% of body weight per day as a hay replacement. As a hay supplement, feed at a rate to maintain body condition along with hay. Feed in a bucket or feed tub preferably at ground level.
RECOMMENDED FOR: Triple Crown Timothy Balance Cubes are recommended for mature horses as a forage replacement or forage supplement when excessive soluble carbohydrates are a concern. Triple Crown Timothy Balance Cubes are manufactured by Ontario Dehy and are balanced to the specifications used by the Equine Cushing's and Insulin Resistance group at
http://pets.groups.yahoo.com/group/EquineCushings
Ontario Dehy manufactures the Timothy Balance Cubes for Triple Crown along with Triple Crown Alfalfa and Alfalfa-Timothy Cubes. Timothy Balance™ is a trademark of Ontario Dehy, Inc.