2014 Triple Crown Nutrition/ PRO JYR Winners are announced!
Posted | Tags: Tc Stories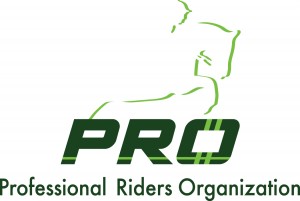 Four Young Riders Win Triple Crown JYR PRO Scholarship Award
Miess, Goldfarb, Langerak and Rice Earn the Honors
Vero Beach, FL: The Professional Riders Organization is pleased to announce the winners of the 2014 Triple Crown Junior Young Rider PRO Scholarship Award after the conclusion of this year's competitions. East coast winners are Jamie Miess, age 19 from Indian Trail, NC and Margo Goldfarb, age 17 from Franklin, TN. West coast winners are Madison Langerak, age 16 from Boise, Idaho and Sydney Rice, age 16 from Redmond, WA.
ÏSupporting deserving riders with a week of training from some of the best professionals in the world of eventing, allows us to invest in the future of our industry and have an impact on individuals at a crucial point in their development as horsemen, said Michelle Mulcahy of Triple Crown Nutrition. ÏAll of us at Triple Crown applaud the efforts of those competing for the scholarship and look forward to hearing from Jamie, Madison, Margo and Sydney about their experiences. Many thanks to World Equestrian Brands, LLC for joining us as a supporting sponsor this year. Ï
Jamie Miess is the leading rider on the Triple Crown Junior Leaderboard with 94 points. This is the second time that Miess has tried to win the scholarship award, having first attempted in 2012 with her previous horse. Miess is currently riding Eren, a 16.1 Hanovarian gelding that she acquired two years ago as a project. Eren had a history of bucking with his previous owner who was training him as a dressage horse. Miess has earned a scholarship week with Jan Byyny and as the top ranked rider on the east coast will also be awarded a full complement of tack from World Equestrian Brands.
ÏWhen I acquired Eren, he didn't even know how to gallop and he was 13 years old. It soon became apparent that he loved to jump [and he] loves cross country_
Funny enough, dressage is still where he struggles because he gets nervous and tense in the ring, said Miess. ÏI cannot wait to do a week of training with a professional rider. What a great learning experience this week will be for us! I look forward to working on our skills_ this fabulous scholarship will help us reach our goal of competing at the two star level. I encourage everyone to keep trying for the scholarship. It took me a couple of years of perseverance, but we did it !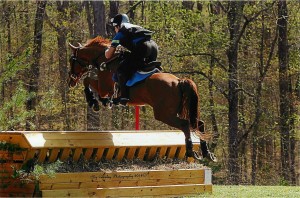 (Jamie Miess)
ÏWorld Equestrian Brands, LLC, is pleased to be Supporting Sponsor of the Triple Crown JYR PRO Scholarship Award Program. We congratulate Jamie Miess of Indian Trail, NC, and Madison Langerak of Boise, ID, earning first rankings for the East and West Coast respectively, said Robin Moore, CEO of World Equestrian Brands. ÏThis is a huge accomplishment and winning the award shows great commitment from both of these young riders. WEB firmly believes well educated riders are the future of our sport, and appreciates the awards are not only based on placings, but also overall technique and horsemanship. We are grateful for the opportunity to support these dedicated young riders with our products. Amerigo, EA Mattes, Equilibrium, and Vespucci products are all driven to produce the best possible function for the horse and rider team. We wish Jamie and Madison, as well as all of the other participants in the program best wishes for bright futures.
Margo Goldfarb, ranked second on the Triple Crown Junior Leaderboard for both east coast riders and overall also earned a scholarship week. Goldfarb will train with Lynn Symansky early next summer.
ÏTo me this scholarship not only recognizes the hard work and perseverance of aspiring young riders, but grants them the unique opportunity to further improve their skills with an upper level event rider, as the grading scale recognizes a comprehensive list of proficiencies rather than an emphasis on result. It is a privilege to be considered among those individuals worthy of such an honor, said Goldfarb. ÏThe Triple Crown JYR PRO Scholarship is undeniably a great milestone in my development as a rider. I extend my gratitude to my mother and my grandparents for helping me in every bit of my goals; training, competing, and encouraging me to pursue this opportunity. And I am looking forward to strengthening my skills as a rider and my partnership with my horse.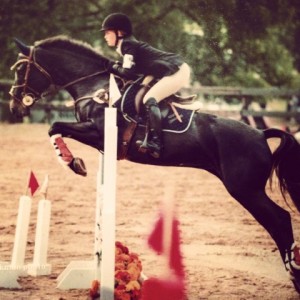 (Margo Goldfarb)
Idaho native, Madison Langerak, finished the season as the highest ranked west coast rider earning her both the Triple Crown JYR PRO Scholarship Award and the World Equestrian Brands prize package. Langerak used the Event at Rebecca Farm as her designated qualifier for the training level scholarship and will train with Matthew Brown of Petaluma, CA.
ÏThe experience is just beginning with the opportunity to ride with and learn from one of the PRO [professionals], said Langerak. ÏI'm hoping to continue to improve my horsemanship skills as well as my riding skills to continue to move up the levels while having fun.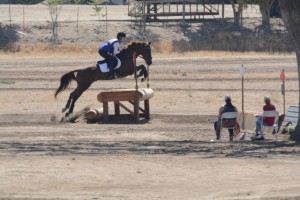 (Madison Langerak)
Matthew Brown who has come east this week to compete at the Dutta Corporation Fair Hill International CCI*** has been an enthusiastic supporter of the program. ÏI am very glad to be a part of this and help to support up and coming riders in our sport. We all need to do what we can to help feed the passion of these young riders who love eventing.
Sydney Rice heard about the program at the end of the summer, but was still able to enter Aspen Farms Horse Trials in Yelm, WA which she used as her designated qualifier. Rice's score there enabled her to place second in the west coast rankings and capture the second west coast scholarship award.
Rice is enthusiastic about the feedback provided during the scholarship program. ÏBecause of this program, I have a better insight on what type of training style will help me and my horse Rocky progress to our fullest potential. I can't wait for my week of training. Thank you so much for providing me with an opportunity of a lifetime.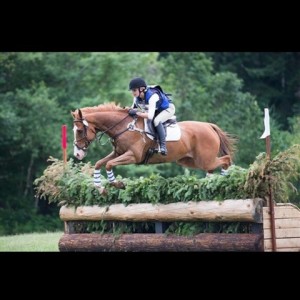 (Sydney Rice)
To learn more about the
Media Contact:
Samantha Lendl
Samantha@professionalriders.org