2nd Annual Midwest Rescue Horse Trainer's Challenge-3
Posted | Tags: rescue horse, Riding, Training
By: Triple Crown Intern – Alex Porter
Meet The Horses In The Midwest Rescue Horse Trainer's Challenge From The Hooved Animal Humane Society! 
Apache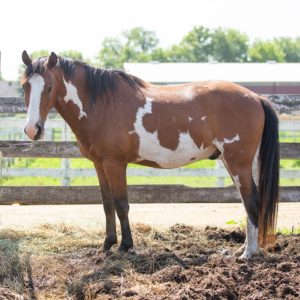 Apache is a 9-year-old 13.3 hand, bay and white Paint gelding. Apache went to HAHS via an animal control impoundment. He is easy to halter and lead, and currently training on groundwork. Apache is a large, fancy moving pony and will surely flourish under the training of someone in the challenge. He possesses unlimited potential!
Bridgett Jones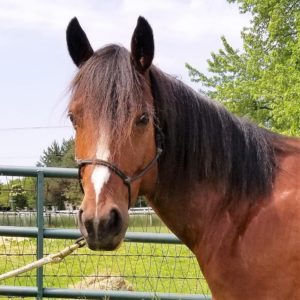 Bridgett Jones is a 10-year-old 14.1 hand, bay Quarterhorse mare. She arrived at HAHS with 3 other horses via an Illinois Department of Agriculture impoundment as the result of a Hooved Animal Humane Society investigation into neglect. She is a forward mover and has the potential for any discipline. She requires someone that can give her consistent work and training and this challenge will be the exact thing Bridgett needs!
Coppertone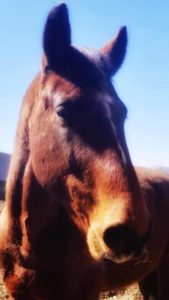 Coppertone a gorgeous 12-year-old, 15.2 hand bay Westphalian gelding. He arrived at HAHS through an ASPCA rescue due to neglect. Coppertone was very nervous and had untreated injuries upon arrival. But now, he has made a complete 180 and now loves attention! He is easily one of the most athletic horses HAHS has ever had and we cannot wait to see what all he can do!
Gingersnap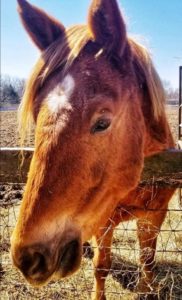 Gingersnap is a spunky 3-year-old, 14.2 hand Mustang filly that deserves a good start. At HAHS's facility, there are 60+ horses and one trainer. Unfortunately, that just doesn't allow young horses like Gingersnap to have the consistent start they need and deserve. This is a sweet, sound, and gorgeous mare that can easily go in any direction the trainer chooses. She loves people and craves attention, and deserves this opportunity!
Lightening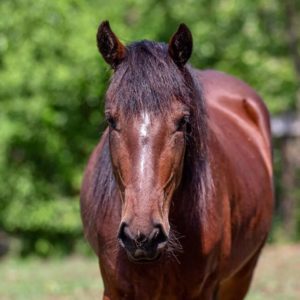 Lightening is a beautiful 4-year-old, 14.1 hand bay Mustang mare. Lightening was one of 6 Mustangs HAHS took in from a Mustang Sanctuary in South Dakota who, due to hay shortages, were looking for assistance. Lightening is very friendly and would make a great project horse. She is always the first to greet you in the pasture and LOVES attention from people!
Mia Bella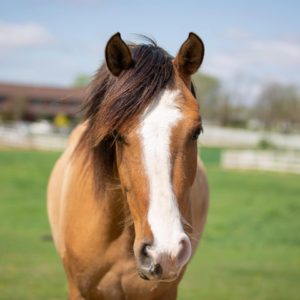 Mia Bella is a 5-year-old, 15 hand beautiful mare that came to HAHS through an animal control case into neglect. Mia Bella is an Andalusian cross who is very smart and eager to learn! She learns quickly and would make someone a great project horse with a ton of potential. Her quirky personality and athletic disposition leave the door wide open to her potential in any discipline!
Twister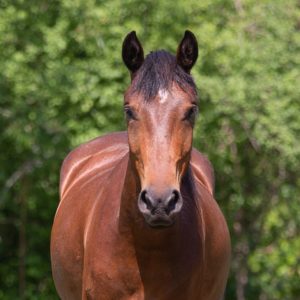 Twister is a 4-year-old, 14.2 hand dark bay Mustang gelding that came to HAHS from a South Dakota rescue. Twister would make a great project horse for someone with prior experience developing young horses. He is easy to handle on the ground, loves people, has a curious nature, but still very green under saddle. This challenge will give him the consistency he both needs and deserves!
Bayou Belle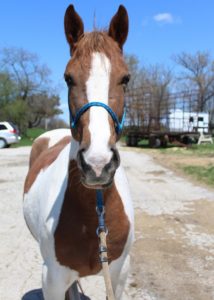 Bayou Belle is a 4-5-year-old, 14.3 hand spotted saddle horse type. Bayou Belle is BACK! Not quite mature enough last year, she had to withdraw from the inaugural Rescue Horse Challenge and take a little more time to figure this thing called civilization out. Born in Louisiana, probably in 2014, she was taken to auction in Nov. 2017 with her late foal in tow. A no-sale, she then went through two more auctions until she ended up in a kill pen in Bastrop, LA in Jan. 2018. Bayou Belle was bailed out by a fundraising effort from supporters of Hooved Companion Project in Hebron, IL and places at HCP for care and rehoming. Thanks to the generous boarders and friends of Western Venture Farm, transport funds were raised to bring the pair to WI to be civilized. Bayou Belle cautiously accepted civilization, the filly was weaned, and now she is ready to make her mark on the world!
Meet more of the horses in the Midwest Rescue Horse Trainer's Challenge here!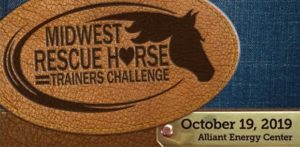 Stay up to date and show your support for the 2nd Annual Midwest Rescue Horse Trainer's Challenge at their website and Facebook!