Winter Equestrian Festival Week Three
Posted | Tags: Adequan Global Dressage Festival, Dressage, English, horse shows, News, Performance Horse, Show Jumping, Tc Stories, the Hermes U.S. Show Jumping Team, Training, United States Equestrian Federation, Wellington, Winter Equestrian Festival
Winter Equestrian Festival Week Three Delivers Excitement and a Triple Crown® Excellence Award for Peter Pletcher and Sincerely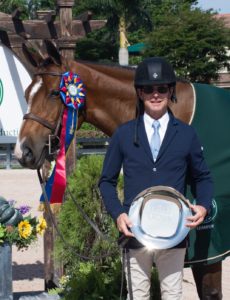 Wellington, Florida (February 6, 2018) – Week 3 of the Winter Equestrian Festival brought more spectacular performances, and Triple Crown Nutrition continues to recognize the best-of-the-best who have gathered in Wellington, FL for this prestigious international show series. Coming in first in the $1000 USHJA 3' Green Hunter Incentive Stake was Peter Pletcher riding six-year-old Dutch mare, Sincerely. This outstanding performance not only earned the pair a score of 87, they were also presented with the Triple Crown Excellence Award. This exciting prize is given to a horse and rider team that demonstrates exemplary achievement within the equestrian community, as well as showing exceptionally good health and fitness.
Sincerely, who is owned by Kate Gibson and Shadyside Farm, is the perfect example of what makes the Winter Equestrian Festival so exciting for horse enthusiasts around the world. "She's been champion the last two weeks," stated Pletcher about the mare, "and I'm hoping we continue on with our great success." Sincerely showed off her exceptional athletic ability to the crowd's delight. "She's one that you really want to watch because she gives a great jump" Pletcher continued. "When other horses are tired and just skimming the jumps, she's always careful," he added.
Held at The Palm Beach International Equestrian Center, the 2018 Winter Equestrian Festival, runs through the end of March, and therefore many more exciting weeks of intense competition are yet to come. This year's circuit will offer more than $9 million in prize money throughout the duration of the season and will feature many of the world's top internationally ranked riders.
When it comes to fulfilling Olympic-caliber horses' nutritional needs during an intense competition, Triple Crown Nutrition knows there is no substitute for supreme quality feeds. The renowned feed company was the first to add prebiotics, probiotics, and organic minerals to horse feed, and continue to deliver the very best in equine nutrition. Triple Crown's unwavering devotion to nutritional excellence is not only apparent in their superior feeds but in their commitment to supporting the dietary needs of horses across many disciplines and multiple training levels.
A proud sponsor the 2018 Winter Equestrian Festival and the Adequan® Global Dressage Festival, Triple Crown Nutrition is the official feed sponsor of the U.S. Dressage Team, the Land Rover U.S. Eventing Team, and the Hermes U.S. Show Jumping Team. To learn more about Triple Crown Feed, please visit the company's official Facebook page or Instagram @TripleCrownFeed, call (800-451-9916), or visit www.TripleCrownFeed.com.
To Watch our Week Three Video, click here!
-30-
Photo 1: Peter Pletcher and Sincerely receive their Triple Crown Excellence Award during week 3 of the Winter Equestrian Festival.