A Different Approach to Deworming
Posted | Tags: Health, horse care, horse management, News, Nutrition, Tc Stories
By Triple Crown Intern- Rachel Voelker
Are you up to date on dealing with internal parasites and the proper protocol for deworming? Drug resistance has been a real concern for years and the way you manage parasites on your farm today may need to change.
This graphic from AAEP provides a few general points on parasite control.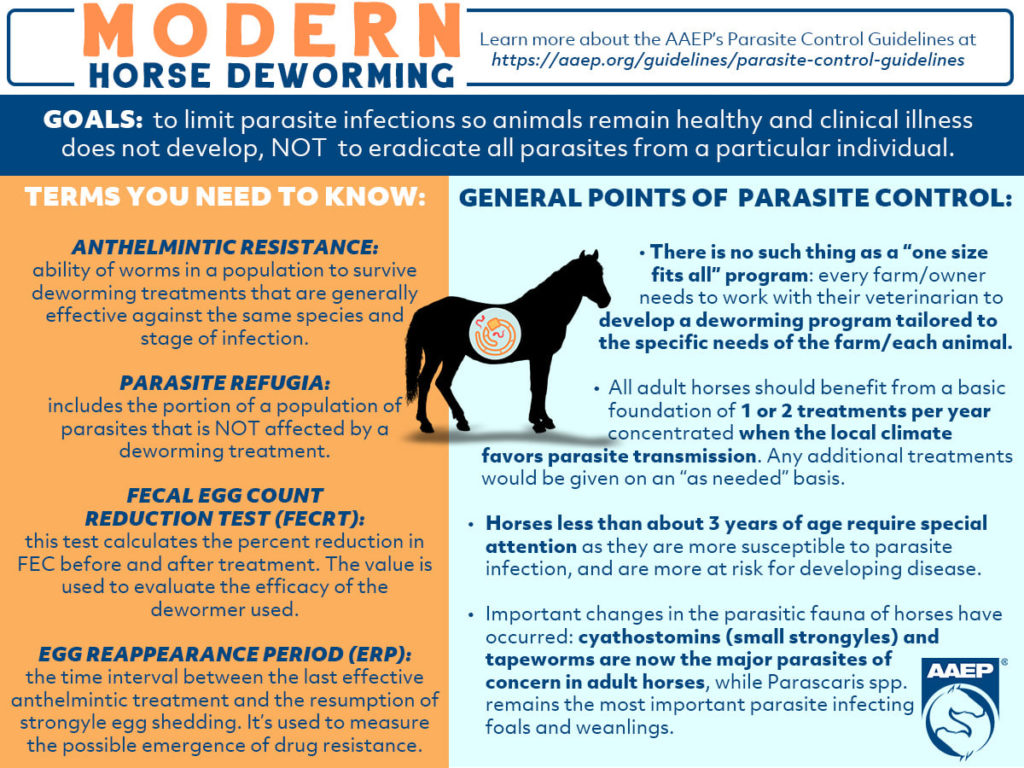 Fecal Test Each Of Your Horses
Manage your Horses Individually
Fecal testing will help reveal if your horse is known as a low shredder, moderate shedder or high shedder – as how you deworm and care for these horses will vary. You can learn how often you may need to deworm and how often to fecal test your horse with the help of your vet and the results of your fecal test.  Typically, it is recommended to
fecal test
adult horses 3-4 times a year (seasonally is a good way to start) and that number may be higher with younger horses or those new to the farm.
Fecal Testing Saves Time and Money
With a large number of horses at Copper Ridge Gaited Horses, a worm problem can quickly get out of control so we rely on the fecal testing to give us an understanding of where our horses are at. We have been using fecal testing for a few years now and have been able to reduce the worm load in every horse, as well as tailor our deworming program to each horse instead of giving them all the same product every 12 weeks. We have figured out which horses are high shedders, medium shedders, and low shedders and have adjusted our deworming protocol accordingly. Also, through fecal testing, we discovered that one of our broodmares had pinworms, even though she had just been wormed and was expected to be at zero for pinworms. Because we fecal tested, we were able to give her a different dewormer to kill the pinworms.
There are various labs that test fecal samples. Research your local lab to ensure they can provide the services you need, as some test for more varieties of worms than others.  Fecal testing can vary in price, but the lab we use in the Midwest costs about $7 per horse. A dewormer, depending on the medications and quality, can range anywhere from $2 to $20.  Through the use of fecal testing, we decreased our expenditures on deworming at our farm with 50+ horses.
Still want to learn more?  You do not want to miss the Internal Parasite Guidelines from AAEP.
All of us at Triple Crown want what is best for your horse and this includes much more than nutrition.  Proper farm management, safety and horse care are essential to the well being of your horse. We are happy to provide additional support on your feeding and management questions.  Contact us for help!