Lori Bell and Flirt Earn Triple Crown® Excellence Award
Posted | Tags: Adequan Global Dressage Festival, Dressage, English, horse shows, News, Performance Horse, Riding, Training, U.S. Dressage Team, United States Equestrian Federation, Wellington, Winter Equestrian Festival
For Immediate Release:
Contact: Kelly Payne
kpayne@triplecrownfeed.com
800-451-9916
www.triplecrownfeed.com
Lori Bell and Flirt Win Jog Turn Out at AGDF Week 5 CDI And Earn Triple Crown® Excellence Award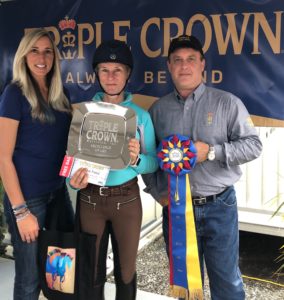 Wellington, Florida (February 18, 2019) –Triple Crown Nutrition is excited to continue to recognize the top, high performance riders who have gathered in Wellington, Florida for the Adequan® Global Dressage Festival (AGDF). Week 5 of this world-class dressage series brought more spectacular performances, tough competition and some of the best dressage found anywhere in the world. It also brought out the best equestrian fashion and style, which was on display during the Show Chic Jog CDI Inspection presented in conjunction with Triple Crown. Winning the Jog Turn Out Award was Lori Bell, who proudly donned a beautiful red maple leaf scarf and waved the Canadian flag during the jog with her horse, Flirt. "I wanted to represent Canada," Bell said about the fashion choice. The award was just a precursor to the pair going into the ring and dazzling the crowd during the CDI Intermediarie 1 and scoring a 67.180%. This performance also earned the pair the Triple Crown Excellence Award presented by Triple Crown Nutrition's High Performance Regional Manager, Craig Bernstein.
Bell is competing two horses in Wellington this season. Flirt is an 11-year-old Oldenburg who she has had since he was three, and Rock My Lady is a 12-year-old Westphalian who she bought as a 7-year-old at 4th level. Bell is proud to announce that both horses have been declared for the Pan Am Games for Canada. She is also looking forward to feeding them Triple Crown feed to help prepare them for optimum performances.
When it comes to fulfilling Olympic-caliber horses' nutritional needs during intense competition, Triple Crown Nutrition knows there is no substitute for supreme quality feeds. The renowned feed company was the first to add prebiotics, probiotics, and organic minerals to horse feed, and continues today to deliver the very best in equine nutrition. Triple Crown's unwavering devotion to nutritional excellence is not only apparent in its superior feeds but in its commitment to supporting the dietary needs of horses across many disciplines and multiple training levels. A proud sponsor the 2019 Winter Equestrian Festival and the Adequan® Global Dressage Festival, Triple Crown Nutrition is the official feed sponsor of the US Equestrian Federation. Learn more about Triple Crown Feed, by visiting the official Facebook page or Instagram @TripleCrownFeed, call (800-451-9916), or visit www.TripleCrownFeed.com.
Photo: Krystal Ann Shingler and Triple Crown Nutrition's Craig Bernstein present the Triple Crown Excellence Award to Lori Bell (center) at the AGDF CDI 5. (JRPR photo no credit needed)