Triple Crown® Nutrition Excellence Award Winner Miki Couchoud
Posted | Tags: Arabian horse, Arabian Horse Association, Horsemanship, Sport Horse Nationals
For Immediate Release:
Contact: Kelly Payne
kpayne@triplecrownfeed.com
(800) 451-9916
www.triplecrownfeed.com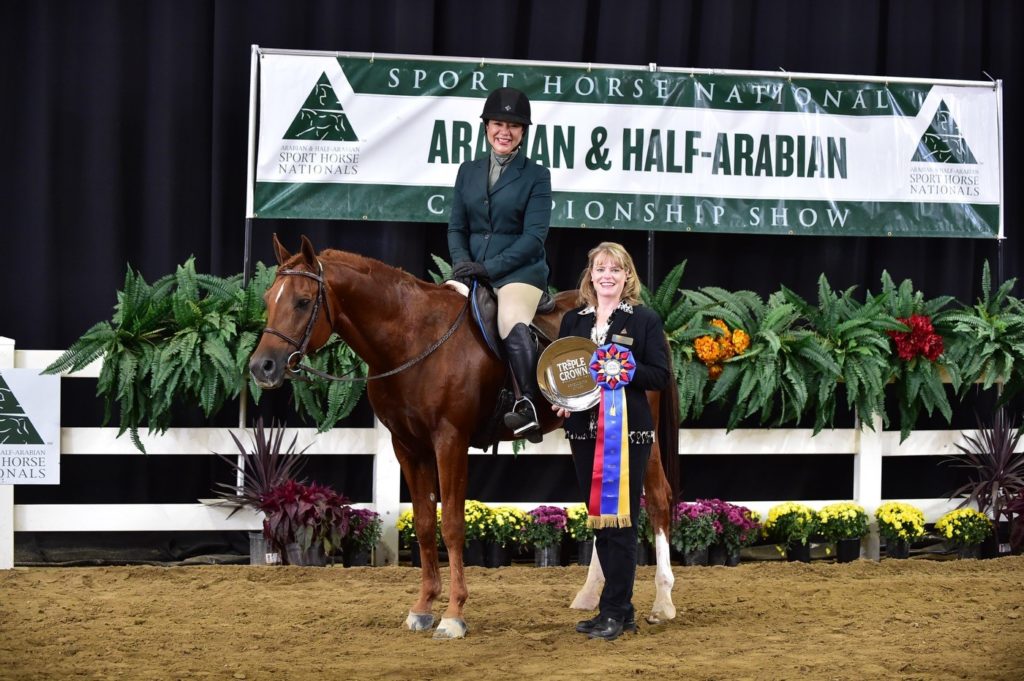 Triple Crown® Nutrition Excellence Award Winner Miki Couchoud Finds Perfect Balance at AHA Sport Horse Nationals
Nampa, Idaho (October 15, 2018) – Good nutrition is about finding the right balance. The same goes for Triple Crown® Nutrition Excellence Award winner Miki Couchoud of Elgian, Az., an amateur owner, trainer and breeder whose exceptional horsemanship led to Top Ten finishes in-hand at the 2018 AHA Sport Horse Nationals, September 18-22 in Nampa, Idaho, with both her veteran pure Polish Arabian stallion, Envitation Only, and her three-year-old show ring 'newbie' and Half Arabian/Half Oldenburg mare, Cocoro.
"I really do everything myself," she said with a smile while accepting her Triple Crown Nutrition Excellence Award ribbon, silver plate, and feed gift certificate.
"I think that's the wonderful thing about the Sport Horse Nationals and its amateur divisions – you can be the owner, breeder, and trainer all in one, and be successful! It's nice to come to a show where so much attention is devoted to exhibitors. And I was taken completely by surprise with this award – thank you!"
For some, just showing a stallion or a green young mare would be demanding enough. But no one knows her horses better than Couchoud and that showed as both horses finished Top Ten in the nation in all their in-hand classes. Invitation Only also "made all his riding cuts."
"I've never had a horse try so hard to make me so happy," she said about the stallion known around her barn as Joey. "He's a good boy.  He's been very successful as a National and Supreme National Champion, so when people ask why I keep showing him as an amateur, I tell them it's easy – because I still enjoy showing in-hand!"
She's also enjoying putting time in with her "baby," Cocoro. "The Nationals were her second show and she's only had about 10 trips under saddle, so it's nice to see her develop in-hand first. We'll probably do dressage in the future," she said.
Couchoud's well-balanced approach to her show horses echoes the importance Triple Crown Nutrition places on providing the right balance in feeds and supplements for today's horses and ponies. Triple Crown is proud to honor dedicated horse people like Couchoud with its Triple Crown Excellence Award.
Based in Wayzata, Minn., Triple Crown Nutrition was the first company to add prebiotics, probiotics and organic minerals to its horse feeds, and is the official feed sponsor of the US Dressage, Eventing, and Show Jumping teams. Learn more at www.TripleCrownFeed.com, call (800) 451-9916 or visit Triple Crown on Facebook or Instagram @TripleCrownFeed.
-30-
Photo: Miki Couchoud and Envitation Only posing with a smile while receiving their Triple Crown Excellence Award. (Photo courtesy of Don Stine Communications and Photography)