Amazing Grace Equine Sanctuary
Posted | Tags: Events, horse care, horse management, horse shows, Riding, Tc Stories, Training, Triple Crown Nutrition
The 1st Annual Midwest Rescue Horse Trainer's Challenge is less than two months away! The challenge will take place on Saturday, September 22nd at 10am at Jefferson County Fair Park in Jefferson, WI. All of the horses are available for adoption after the event. Get your application in today! For more information, visit their website or Facebook page.
The Amazing Grace Equine Sanctuary is a wonderful non profit organization created for the sole purpose of offering a safe haven for unwanted, abused or neglected horses. Visit their website or Facebook page to learn more about what they do.
They have provided the following horses for the 1st Annual Midwest Rescue Horse Trainer's Challenge. Read about each horse and their background below.
Sadie
Sadie is a 3 yr old AQHA mare. Here is her story: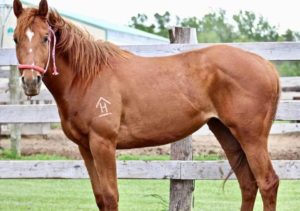 "Sadie came to us as an owner surrender very recently – a Christmas present purchased this past September by parents that did not understand the true expense and depth of care a horse needs. She developed some health issues while at a training facility and the owner did not want to put the money into her to make her well. They contacted us to surrender her.
Sadie was 3 on May 31. She is a registered AQHA and has a brand on her front left shoulder. She is compact and delicate with a beautiful head and movement. AGES is her 4th home since she was born, so she is naturally slow to trust and a little head shy. We love her for this challenge as she is a blank slate with her whole life ahead of her to go in any direction."
See training updates for Sadie on the Midwest Rescue Horse Trainer's Challenge Facebook page!
Rudy
Rudy is a 14 yr old Arabian gelding. Here is his story: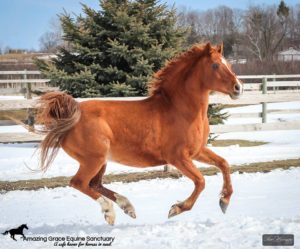 "Rudy was a criminal case from Shawano county, brought to our attention in August of 2013. A retired breeder who had already surrendered 60 plus horses to authorities in February (all shipped to slaughter), discovered Rudy on August 16. He had somehow been left behind on the 300+ acre farm. Somehow he had survived on his own. When the breeder discovered him, he immediately contacted authorities and threatened to shoot him if they didn't remove him immediately. Shawano Cty contacted AGES, and thus began one of the most dramatic rescues we have ever been involved in. Rudy was barely a body score of 1, and was standing inside a dilapidated barn in muck up to his knees, which is probably what kept him upright. He was terrified of people, but somehow AGES managed to get him on the trailer, where he promptly collapsed. To this day, it is a miracle he survived, as AGES was still in its early years and ill-prepared to care for a horse with such severe health issues. Rudy was in a sling for the first few weeks with us. Each time we removed the sling, he would collapse and it would take a skid steer and 6 people to get him back up. He carries scars on his left side as a reminder of this time in his life. He had pneumonia, massive worm counts, and vomited anything we tried to administer orally. During those months of recovery, we learned to be mindful of flying hooves and teeth. Several of us have scars and broken bones as a result of his desperate need to protect himself, despite his poor condition.
He was adopted out for a few years to one of the only people he ever truly bonded with, however, his training did not continue, and he was allowed to behave as he chose. Due to health issues, he has returned to AGES, and while no longer dangerous, continues to be difficult to catch and has not bonded with a human. Rudy is a fighter and intended for great things. He also loves to jump, which is something our trainer discovered when we first began working with him. What he needs to become great is the intense level of training that the Trainer's Challenge can provide. We would love this opportunity to see Rudy achieve his true potential and find a forever home with someone he loves."
See training updates for Rudy on the Midwest Rescue Horse Trainer's Challenge Facebook page!
Juna
Juna is a 10 yr old QH mare. Here is her story: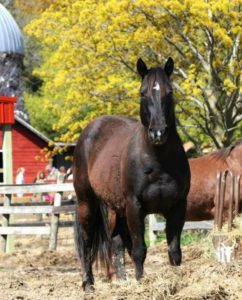 "Juna came to us in January 2017 as a rescue from a hoarding seizure
of over 600 animals on the East Coast. Juna is a 10-year-old dark bay/black quarter horse mare, partially blind, standing about 14.1hh. Her training level unknown, but we know she was saddled shortly before she came to AGES. She does exhibit some physical abuse behaviors when being handled and touched. Juna needs much-desensitizing work and gentle hands. She is kind but leary. She would love her very own person to learn to trust and bond with for life. Juna is middle to low in the pecking order in a herd of mares. She has some vision loss in one eye, however, we have not seen it affect her moving around here at all. With a bond to her forever person, she will blossom into an amazing companion. She deserves a wonderful life!"
See training updates for Juna on the Midwest Rescue Horse Trainer's Challenge Facebook page!