At 70 Years Of Age, Flower is Both the World's Oldest Donkey & Longest Lived Equine
Posted | Tags: News
The World's Oldest Donkey Is Still Lovable, Kicking & Eager For Companionship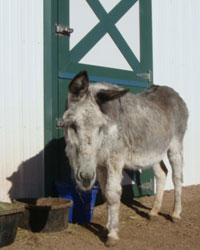 Did you know that the oldest horse lived to be 62 years old? Or, that the oldest pony was a 56-year-old Shetland Exmoor crossbreed? Have you ever heard of the 38-year-old mule named Jesse? Pretty impressive for horse's life spans, aren't they? Well, there's a donkey who has outlived every single one of them. She's Flower The Donkey. The donkey with the heart of gold.
Barbara Proctor first heard about, Flower The Donkey, when she was contacted in 1998 by the 2 Mile High Club, a Colorado-based group dedicated to the welfare of a small herd of free-roaming donkeys that are said to be direct descendants of the donkeys used in the gold mines during the Colorado Gold Rush in Cripple Creek, CO. They asked me if I would take Flower in, Barbara explained, since she was way too old to survive to roam around with the other more able-bodied donkeys throughout Cripple Creek and the surrounding area. Flower had a full grown Goose keeping her company at the time, but Barbara was afraid to adopt the Goose, given the number of coyotes in and around her property.
One of the first questions many people ask me is just how I know Flower's actual age, Barbara volunteered, and, I tell them, Flower is not only registered, but she came with a 'Brand Inspection Card,' that states that she was born in 1941. Apparently, she started out on a ranch in Nebraska, before she changed hands to an owner in Colorado. It was that owner who contacted the '2 Mile High Club,  who ultimately placed Flower with us.
Flower and Maggie Mae Become Two Of The Most Adorable, Inseparable Donkey Companions, Ever
After arriving on Barbara's farm, Flower ultimately became inseparable from another donkey Barbara had by the name of, Maggie Mae. They did everything together, including eating from the same bowl, turning their daily meals into mushy disasters. I constantly had to wash their faces to keep their feed from hardening into a crusty concrete mess, Barbara said. But,  she continued, They didn't start out as best friends. When Flower first came to live with us, Maggie Mae wanted nothing to do with her. That was because Maggie Mae was not weaned from Tulip and was completely devoted to her young donkey jenny. But, once Tulip went off and became a mom with her own new foal, is when Flower and Maggie Mae teamed up. What was really amazing was how quickly they became inseparable. As Maggie became older and developed Cushing's and eventually her sight began to fail, we outfitted Maggie and Flower with cowbells so they could find one another more easily, whenever they got accidentally separated.
These two donkeys were so close that when Maggie Mae didn't show up at our barn for dinner one night, it was Flower who alerted me to Maggie's distress and led me to Maggie, where I found her laying on the arena, stranded and in pain. Flower stood attentively by Maggie's side through subsequent veterinary visits as well as the entire rehabilitation process. And, both donkeys' devotion never wavered. Flower and Maggie Mae simply could not bear to be apart, even for brief hauls to the vet.
Ultimately, 4 years later, Maggie Mae passed away. For at least a month after she was gone, Flower continued madly searching for her, desperately retracing her steps all over the property. She called out for Maggie, braying and searching through the barns, trees and bushes. She would even wait for hours on end by the pasture gate. Eventually, Flower seemed to accept the fact that Maggie was gone and started to keep to herself.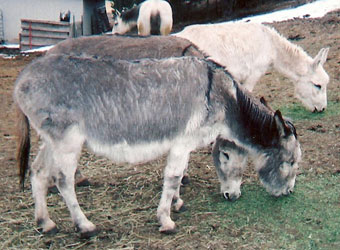 Flower and Sam Start A Tentative New Donkey Friendship
Given Flower's clear devastation in the face of Maggie Mae's passing; I knew it was important to try to get her interested in another animal's company. So, I paired her off with another donkey by the name of Sam. Sam and Flower are bonding, living and eating together. They both get Triple Crown Senior horse feed, along with Flax, Omega Pak, Amino Pak, a Pro-biotic and equine vitamins. They also get animal crackers in their feed, which they both adore. If their weight dips, I also add Rice Bran to their diet.
Both Flower and Sam get 4th to 5th cutting alfalfa as they can only eat the leaves. Neither donkey has a lot of teeth left, but, they still find the leaves edible. With Flower's amazing attitude and energy, or, as I like to call it, spunk and energy,' combined with Sam's company, their high quality diet, and medical care, there's really no telling how much longer Flower will continue to amaze, amuse and delight us. We look forward to every single day with her and all the other creatures we care for, here on our farm.
*We wanted to include an update on the passing of Flower on Oct. 16, 2012. This amazing donkey will truly be missed*