Bathing: Post-Exercise Care for a Healthy Horse
Posted | Tags: English, Health, Riding, Western
As the summer heat starts to hit and the competition season begins, horses and riders alike are more susceptible to heat exhaustion and injury after strenuous work. We'll be posting a series of short blogs to help you learn the best way to care for and cool down your horse after hard exercise. This series will cater towards all types of horses that are in hard work, and will be helpful for those just riding for pleasure on a hot day!
If you missed our previous blogs in the Post-Exercise care series, check them out here:
Check out our tutorial videos at our YouTube Channel.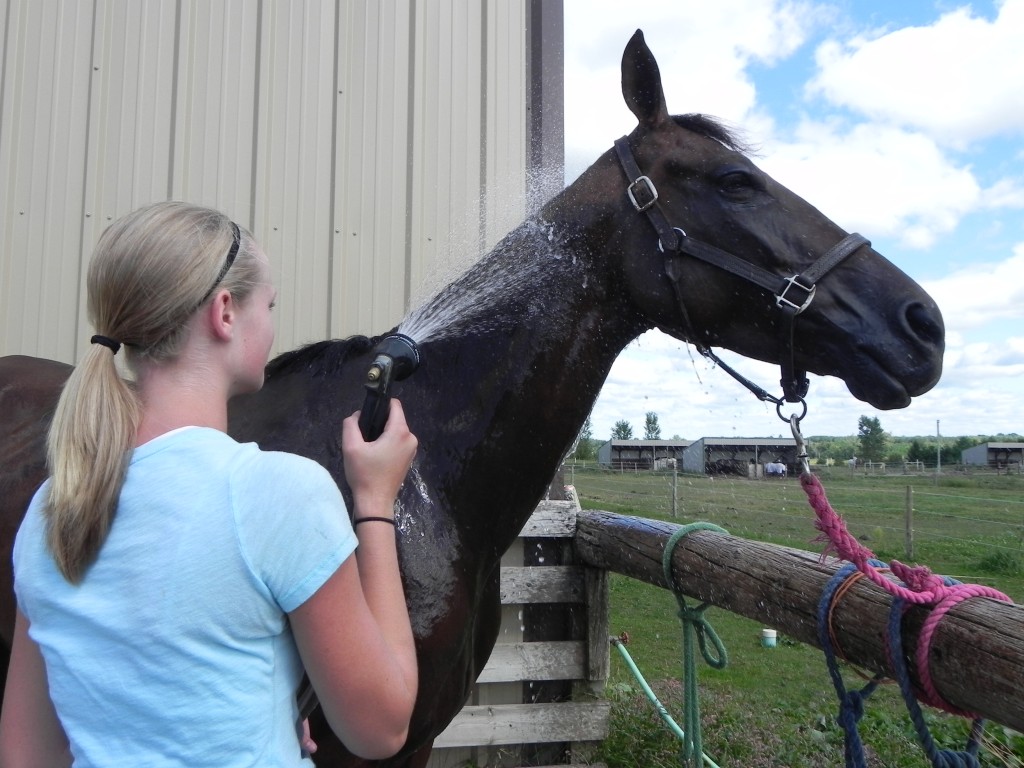 Bathing/Cooling Your Horse
As a horse finishes a major cross country event or a race, the first thing most grooms will do is to strip all of the tack and equipment and slather icy water on the horse. A horse's body temperature can skyrocket very quickly during exercise, particularly in hot and humid weather. Using cold water is one of the best ways to immediately pull this body temperature back down. Plan in advance to have a helper with buckets of ice water following your ride, or bring your horse to a wash rack as soon as possible. Quickly lather the horse in the cold water, leaving it on the horse only long enough for it to warm up a bit (normally around 15-30 seconds), then immediately scrape the water back off of the horse again. You can repeat this process across the horse's body as many times as it takes before the horse's coat begins to feel cool to the touch and the temperature begins to drop.
If your horse worked particularly hard, you can also add a second bath with liniment to help cool and relax the achy muscles. When giving a liniment brace bath, it is important to dilute the liniment in a bucket of water before sponging onto the horse. Follow the directions for your particular chosen liniment on the quantities, and don't be afraid to experiment with different liniments. Each liniment will have a different strength and effect on each horse, and horses will all respond best to different ones. Some of the most popular liniments include Sore No-More, Absorbine Veterinary Liniment, and Vetrolin Liniment.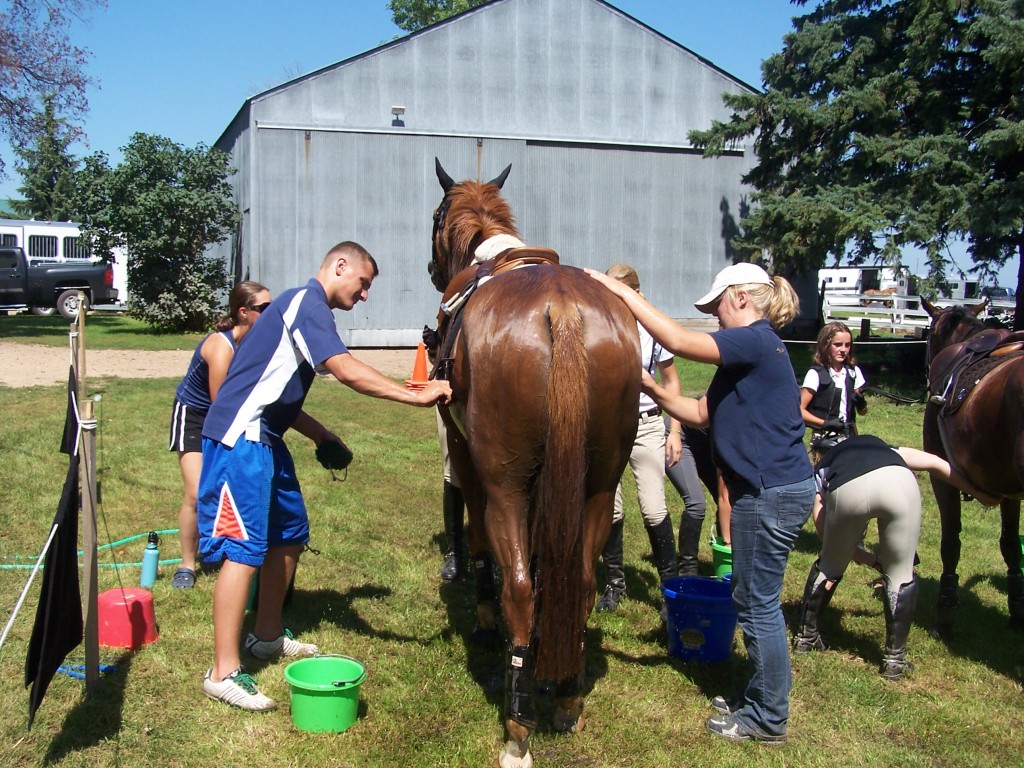 Keys To Success
Scrape the water off quickly as it cools the horse. If left on too long, the water will help insulate the heat and actually increase the horse's temperature even further.
Focus the most water on major muscle groups (neck, hindquarters, chest) and also on large veins, such as those on the inner gaskin and the neck. This will be most effective in cooling the horse.
Use remaining cold water to clean and cool the legs and tendons, particularly if they have been covered by boots.
After scraping the water off in cool weather, put a cooler on the horse to prevent chills.
Test a new liniment on a small area of the horse first to see how they react, then apply to the whole body if they reacted well.