Combat High Hay Prices: The Best Forage Alternatives For Your Horse
Posted | Tags: beet pulp, forages, hay, horse care, winter feeding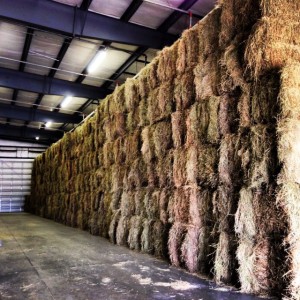 By: Triple Crown Intern- Alex Porter
Hay, or another source of fiber, is absolutely necessary to maintain a healthy and properly functioning digestive tract. But providing your horse with high-quality hay year-round can be a challenge when weather is involved. Many horse owners have already been working hard to locate enough quality forage to last the winter and are combating hay shortages and high hay prices.  Incorporating forage alternatives into your horse's diet can be a great way to save money, stretch your hay supply, and ensure that your horses' daily fiber needs are being met.
Why Is Fiber So Important?
It is imperative that horses are provided at least 1% of their bodyweight in quality forage options every day. Horses have a natural desire to graze throughout the day, so they must have a high fiber diet. Horses living out on pasture may graze 10-17 hours per day. Consumption of pasture, hay and other forages fulfill both physical and psychological needs. The Horse's hindgut is home to billions of microbes that utilize fiber and transform it into energy. In addition, horses are classified as hindgut fermenters and their normal gut function is dependent on an adequate fiber supply. Fiber provides bulk and helps with the passage of food through a complex digestive tract. Without enough fiber, horses could face gut issues or colic.
Popular Forage Alternatives
Complete Feeds
Vitamin and Mineral fortified grain/forage mix that is formulated with high-quality fiber sources to raise total fiber percentage in the feed
Can be used to replace all forage in the diet, but better as a supplement to forage
Triple Crown Senior and Triple Crown Complete are beet pulp-based complete feeds that will provide adequate fiber for horses that have difficulty consuming hay
Hay Cubes
Alfalfa Pellets
Can be added to meals to supplement poor quality hay, but generally recommended to not completely replace hay
Pellets lack fiber length, therefore, does not stimulate digestive tract motility
Helpful to horses with dentition issues, pelleted hay can be fed dry or made into a mash
Chopped Forages
Easily digestible, high nutritional value and good fiber length that helps to maintain proper gut function
The best option for supplementing poor quality hay or replacing hay all together
Triple Crown offers a variety of chopped forages to meet the needs of each individual horse
Beet Pulp Shreds
This high fiber ingredient is also moderate in calories and low in starch/sugar
Shreds provide a "scratch factor" to the gut
The main ingredient in Triple Crown's complete feeds
Tips for Stretching Your Hay Supply 
Make the most out of your pasture by grazing, rotating and fertilizing your pasture to help it last the season.
Complete a hay analysis and use the results to calculate how much hay each horse needs.  A program like FEEDXL can show the nutrition your horse receives from their hay, feed and any supplements given and is the best way to see if your horse's daily nutrient needs are met.
Use a feeder to reduce hay waste and using a hay net can slow down how fast your horses consume their hay. The amount of hay you can save is quite astonishing.
| | | |
| --- | --- | --- |
|  *UMN-Equine Extension | Hay Waste WITHOUT Feeder | Hay Waste WITH Feeder |
| Feeding Small Squares Indoors | 7% | 1% |
| Feeding Small Squares Outdoors | 13% | 1-5% |
| Feeding Round Bales Outdoors | 57% | 5-33% |
*Per University of Minnesota- Equine Extension
Click Here for more ways you can maximize your hay supply!