Choke 101- Caring for a Horse That Has Choked
Posted | Tags: choke, dental health, digestive tract health, feeding old horses, grains, hay cubes, horse care, Nutrition, veterinarian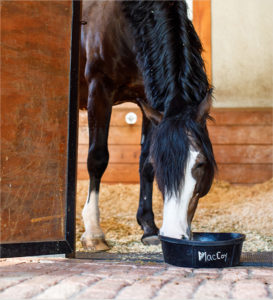 By Jessica Drexler, PAS
It is shortly after meal time, you look over to find  your horse acting uneasy, extending his neck in an odd way, with discharge coming from his nostrils. Be sure to act quickly and get veterinarian assistance because your horse is most likely choking. Let's take a look at what choke is, how horses can be predisposed to it and review management practices to help prevent it. Once a horse chokes, you will want to make important changes to your feeding program as well.
What is choke and what does it look like?
Choke is when food or foreign materials cause a blockage in the esophagus. You may see a horse with feed and discharge coming from its nose, displaying discomfort and attempting to swallow. It could be coughing and you may even see a lump on the side of its neck where the material has gotten stuck in the esophagus. Watch your horse and try to keep him as comfortable as possible. However, don't allow him to eat or drink and don't administer any medications—call a vet right away!
Get veterinarian help when a horse chokes!
Get a vet involved as soon as possible, as choke needs to be resolved and many horses can have secondary issues including pneumonia if saliva and food get into the lungs. Vets will likely administer sedation and meds to help relax the muscles of the esophagus and see if the lodged material can pass on its own. If it doesn't, the vet may need to pass a stomach tube down the esophagus to find the blockage. When found, the vet will send water through the tube, as much as necessary, to soften the lodged food until it passes. When the horse passes the lodged particle, he will need to be carefully watched. Vets will typically prescribe antibiotics due to the concern of pneumonia and the horse will need to be slowly introduced back to feed. Be sure to wet the feed and talk with your vet about how you may need to change the horse's diet going forward.
What causes choke in horses?
Horses can choke on many different types of feedstuffs, from a basic sweet feed and pelleted feeds to beet pulp and hay. Sometimes choke can happen from not chewing treats, carrots or apples properly. There are also some habits that make a horse more prone to choking. Horses with dentition issues (missing or no teeth) and those unable to chew feed well can be at risk. It is recommended to feed these horses a softer feed and consider adding water to turn it into a mash. Adding water to Triple Crown Senior is a great option.  Horses who "bolt their feed," meaning they eat it too fast and do not chew their feed well, are also candidates for choke. For these horses, it is recommended to feed them in a larger feed pan on the ground (when horses eat with their head down, they produce more saliva while chewing) and put large objects in the pan, like a large rocks or a salt block, so they must eat around the objects—this slows down their eating! Feeding smaller, more frequent meals can help too. Be sure to think about why the horse is a bolter? Does he try to hurry up to eat and see what his friends are doing? Is he eating with a group and trying to "compete" for feed at the trough? What can you do ease your horse's nervousness and slow him down?
How to prevent choke from happening again
The choking process causes inflammation in the esophagus and can scar the lining of the esophagus. Unfortunately, this can predispose a horse to choking again. Consider many of the practices mentioned above— feeding softer feeds, wetting the feed, and feeding at ground level in a feed pan. You may need to make changes to the hay portion of the diet as well by offering softer hay or soaking hay cubes. As always, make sure fresh, clean water is available close by. If you think your horse may be choking, act fast and contact a vet for help. Be sure to monitor horses you feel could be prone to choke and make appropriate diet and management changes.