Medical Care For Mare & Foal Post Foaling
Posted | Tags: Breeding, Health, Nutrition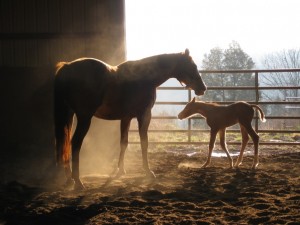 Once the mare stands after foaling and before the foal nurses, the mare's udder and perineum should be cleansed and dried to prevent ingestion of pathogens. The newborn foal should stand and nurse within two hours of foaling. As the foal ingests colostrum, a passive transfer of antibodies against diseases occurs within first 12 hours of birth. If passive transfer does not occur, plasma infusion of antibodies will be necessary.
It is also imperative to check for broken ribs and monitor the foal's respiratory rate, heart rate and temperature.
Normal Ranges:
Respiration– 30 to 40 breaths per minute, 60 to 80 if in a hot climate
Heart rate– 80 to 120 beats per minute
Temperature– 99 to 101.8 °F
Furthermore, the mare should be dewormed immediately after foaling, which will also deworm the foal as the compounds are passed through the milk. The foal can also be dewormed at 10 days of age with the appropriate class of anthelmintic.
Some mares experience digestive upset after foaling, so it is best to feed hay and light meals, including a concentrate formulated for heavy lactation. They should always have constant access to good quality pasture and/or forage and freshwater. It is also important to check body condition score of the mare to prevent sudden loss of condition. The foal should be weighed and evaluated every two weeks to determine average daily gain to ensure a moderate steady growth rate to prevent development of Developmental Orthopedic Disease (DOD).
Mare and foal should be turned out for short periods, regardless of weather, because the exercise will help the mare expel uterine fluid and help the foal strengthen tendons, ligaments, bone and muscle. It is also necessary for the mental health of mare and foal to be allowed free exercise in short bouts. Turnout should be in a small paddock alone or with one other mare and foal for the first 30 days so foals do not over exercise. After one month, they can be turned out in a larger field with more mares and foals. Once weather is optimum, mares and foals can be left out round the clock.
Prior to weaning, the mare's concentrate should be slowly reduced to encourage less milk production, and chances are the mare does not need to consume as many calories as she did during gestation and lactation as well. At this time, mares can be placed on a protein/vitamin/mineral supplement if other energy sources are readily available (pasture, good hay etc.). Foals should be fed separately or with a foal creep feeder to ensure consistent intake. Foals should also be vaccinated several weeks prior to weaning and be dewormed and trimmed before the stress of weaning.
Astute feeding, and management techniques combined with some advanced planning will help ensure each mare produces a healthy, and viable foal.