OTHER GREAT OPTIONS FOR YOUR HORSE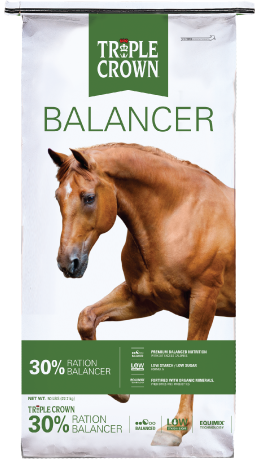 30% Ration Balancer
Designed for the easy keeper or horses just on pasture.  Increased vitamin, mineral, prebiotic and probiotic to ensure the horse is getting the optimim levels.  Weight may need to be controlled by exercise or fiber intake. Also used when you just want to boost nutritonal content of any diet or when you are not feeding enough of another diet.
Senior
Designed for the older horse, but Senior also works well for horses of any age where you want to maximize fiber and keep starch and sugar in the diet low.  All horses with compromised digestive systems or teeth issues should be on Senior.
The amount of feed fed is critically important to assure all the nutrients provided by Triple Crown. However, a recommended amount for each feeding situation is impossible as each farm has different turnout and hay and each horse is an individual. Feed the amount of feed required to develop or maintain the body condition you desire for your horse. Here are basic minimums and maximums for feeding Triple Crown products. Feel free to call, chat or email with additional feeding questions.
30% RATION BALANCER
Minimum 1/2lb. for ponies and 1lb. for horses to a maximum 1 1/2 lb. for ponies and 3lb. for horses.
LITE
Minimum 1 lb. for ponies and 2 lb. for horses to a maximum of  3 lb. for ponies and 4 lb. for horses.
SENIOR, COMPLETE, GROWTH, LOW STARCH, NATURALS AND TRAINING
Minimum of 3 lb. for ponies and 5 lb. for horses with no maximum. However avoid feeding more than 0.5% of  body weight per feeding.