Complete Horse Feeds- More Than Just High Fiber and Low Carbohydrates
Posted | Tags: Health, Nutrition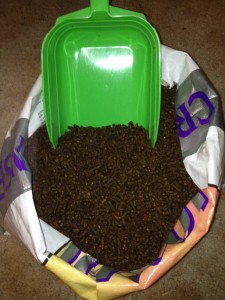 By: Eric Haydt, PAS
What Is A Complete Feed?
We had a very good question from a customer asking, "What exactly is a 'complete' feed?" Many horse owners believe that a complete feed is one that has all of the proper vitamin and mineral fortification, and for some feeds, they would be correct. However, the real definition of a complete feed is a feed that contains enough fiber so a horse can eat just that diet without supplemental hay or pasture. Most complete feeds would also contain the proper amount of vitamins and minerals necessary to meet National Research Council (NRC) recommendations.
Importance Of Fiber
Horses need fiber in their diets to thrive. If fiber intake is limited—from poor or limited hay/pasture or poor dentition—a complete feed makes up what is missing. Any properly formulated senior diet should be a complete feed, as many senior horses have trouble maintaining weight because of a loss of efficiency in consuming hay or pasture. Generally, feeds that guarantee 14% to 17% fiber work great for horses that can still eat some hay or for supplemental fiber. Fiber guarantees of 17% and over are best for horses that can no longer eat hay or graze and need to survive just on the feed itself. For these horses, we also recommend feeding from a pan on the ground and adding some water to help reduce the potential for choking.
The most important concern regarding complete feeds is the type of fiber used. Horses can convert certain types of fiber into energy very well, but the fiber needs to be low in lignin or structural carbohydrates. Fiber ingredients like alfalfa meal, shredded beet pulp, soy hulls and midds are easily digested fibers for horses. Other fiber sources like peanut hulls, almond hulls and rice hulls are examples of ingredients high in lignin, which are not very digestible and provide very little nutrition. If the feed tag uses a collective term like "fiber byproducts," you should question what ingredients are being used. It could have a big impact on how much feed is needed to maintain desired body condition.
Understand Your Feed Ingredients
Complete feeds are often fortified with sufficient amounts of vitamins and minerals and do not require additional supplementation, except in the following examples. Some complete feeds are just hay extenders or hay supplements that only provide additional fiber without any other fortification. You need to check the tag for guarantees and ingredient lists. Also, like any feed, you need to pay attention to the feeding directions. For fortified feeds, you need to make sure you are feeding the minimum rate listed on the feeding directions. If you are feeding under that amount, you will need to add a balancer- type feed, such as Triple Crown 30% Supplement, to meet recommended levels of vitamins and minerals.
Another advantage of complete feeds is that the higher fiber levels also tend to decrease starch and sugar levels. Complete feeds, like Triple Crown Complete, can provide lower-to-moderate soluble carbohydrates levels, yet contain more calories for active horses. Other complete feeds, like Triple Crown Low Starch, have lower calorie content and work well for less active, easier keepers.
Complete feeds often become mandatory for truly old horses that lose the ability to eat long stemmed hay or even soaked hay cubes.  The feed helps to ensure the older horse has their fiber, calorie and nutritional needs met.  Complete feeds are also life savers for horse owners with limited or poor pasture/hay.   It is important to also understand that complete feeds work well to help reduce soluble carbohydrates (starch and sugar) while still giving a performing horse the nutrition they need. A Complete feed can be a much healthier "Performance" feed compared to grain based feeds by offering the same amount of calories, much higher fiber, but much less carbs. The uses of complete feeds are nearly endless.