Condition Your Horse By Hitting The Trails This Summer
Posted | Tags: Health, pleasure riding, Riding, Trail Riding, Training
By: Triple Crown Intern – Alex Porter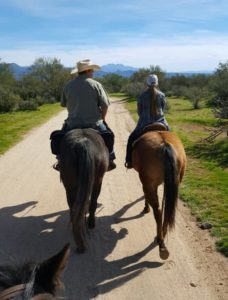 Need to keep your horse conditioned during show season, but want to see something other than the inside of an arena? Go for a trail ride instead! Trail riding is not only a relaxing activity for the horse and rider, but also one of the best ways to build muscle and condition your horse. Not to mention, it's SUMMER, so get out and enjoy the nice weather!  
Help your horse maintain the ideal physical condition, as well as a clear mind. Many times, horses become "hot" when they are in the arena because they do the same thing every time they are in that environment. As humans, we enjoy a change of scenery, changing up our routines, taking on new challenges, and horses do too. 
Don't know where trails near you are located? Click here to find out! 
Benefits for The Rider 
Quality time with your horse

Ability to socialize with other horse lovers

Opportunity to observe nature

Exploration of new terrain

Improve equitation

Build confidence

Relax and enjoy a low-stress discipline without competition
Benefits for The Horse
Increased responsiveness

Practical environment to practice maneuvers such as backing,

forehand and haunch pivots, leg yielding, and gait transitions

Ability to better negotiate obstacles

Better balance

Improved muscling/conditioning

Build a topline by going up and down hills
Visit Practical Horsemen and see what expert horsemen are saying about taking your horse on the trails!
Change Up Your Routine
Rather than working your horse only in the arena during the week, try and set aside one to two days for a trail ride. If trailering your horse isn't an option, ride alongside the road, up and down the driveway, or around the property to incorporate some hills into your ride. 
Saddle Bag Essentials To Pack For the Trail
Create Your Own Trail Riding Survival Kit!
After only doing arena work for about a month and then going on a trail ride, I noticed a huge difference. I felt like my horse just had the best work out of his life and it worked all of his muscles. Not only did he get a great workout in, but he was having a blast while doing it.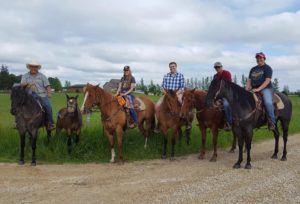 The family pictured above is a wonderful family of cowboy mounted shooters and they love spending their time on the trails. Their horses look incredible, they perform in tip-top shape, and they're calm and collected in the arena.