Copper Ridge Gaited Horses
Posted | Tags: Breeding, horse management, pleasure riding, Riding, Tc Stories, Triple Crown Nutrition
Photo credit to Barbara O'Brien
by Triple Crown Intern Rachel Voelker
Copper Ridge Gaited Horses
Copper Ridge is a gaited horse farm located in the Midwest focused on producing quality Missouri Fox Trotters. We searched the country and hand-selected quality horses with foundation bloodlines, a true foxtrot, and great conformation, as well as a wonderful disposition. At Copper Ridge, those four traits are most important when considering if a horse is of breeding quality.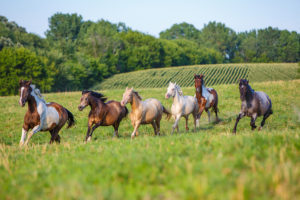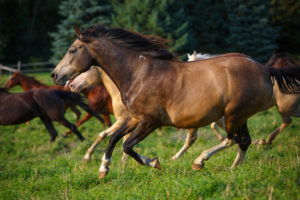 Meet The Stallions
We stand four stallions and each has something different to offer. This allows us to cross our mares with exactly the right stallion to enhance their traits. Our mares are chosen for their disposition, conformation, gait, and bloodlines.
Our senior stallion, Foxden's Calico Kid, is 24 years old, but you wouldn't know it. He has some great bloodlines going back to Superman's War Chief and Missouri Traveler E., who is an influential stallion in the breed. His offspring have the sweetest disposition and are a practically born broke – very calm and level-headed. They have substantial size to them, usually standing around 15H. Foxden's Calico Kid is a black tobiano and also happens to be homozygous black; therefore, all of his foals will be black-based.
Our other senior stallion, Rebel Storm, is our go-to stallion. He has excellent foundation breeding that is hard to come by these days. His lineage includes Mr. President and Zane Grey. His offspring tend to be big framed and taller, and have a lot of hair—usually manes on both sides before they are two years of age. His foals are extremely naturally gaited and have a stocky build with correct conformation. Rebel Storm is a black dun, turned gray. He still has a flea-bitten coat at 16 years old.
Bo Fancy Dancer is our third stallion. His bloodlines include Yankee Rebel by Mack K Yankee, who is another influential stallion in the breed. He has an exceptional gait and passes that to his offspring. His foals are willing, playful, and always ready to learn. He produces foals that finish out around 14.2 to 15H. Bo Fancy Dancer is a red roan. He is a coppery shade with an incredible shine.
Our last stallion is Dun Gone Country RBGR. He is a short, but stout bay dun 4-year-old, standing at 14.1H. We hope for him to grow a few more inches in the next couple of years. He has extremely laid back foals that have proven to inherit his stockiness. His lineage is more current with stallions like Playboy's Country Boy and Ben's Black Ace.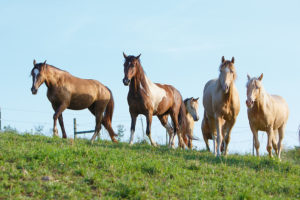 Breed Versatility
We personally love the Missouri Fox Trotter breed because of how sane and willing they are. They are wonderful horses and have proven to be easy to handle and loyal riding partners. We also want to impress upon people unfamiliar with gaited horses that these horses are very versatile and can be used for any discipline. Just like other breeds, certain bloodlines are more successful in certain disciplines. Bloodlines like Danney Joe W are known to have more cow sense, while Merry Boy Sensation lines are great for endurance riding.
Want To Own A Gaited Horse From Copper Ridge?
At Copper Ridge, we have a wide variety of horses for sale, ranging from 14H to 16H in height to more athletic and stockier builds. We have several weanlings, yearlings and young stock, as well as several riding mares available for sale at this time.  Raising your own foal and establishing a solid relationship built on trust is a wonderful way to ensure a long-term riding partner. Visit us on our website here or on our Facebook page at Copper Ridge Gaited Horses.
"Today, the Missouri Fox Trotting Horse is described as every person's pleasure horse because of its gentle disposition and its comfortable ride" (MFTHBA.com). To learn a little more history about the Missouri Fox Trotter, visit MFTHBA.