Should My Horse Feed Be Corn-free?
Posted | Tags: alfatoxins, corn free, mycotoxins, Nutrition
Triple Crown's horse feeds are corn-free formulas. While corn is not bad for most horses, there are 3 reasons we chose not to include corn in our feeds.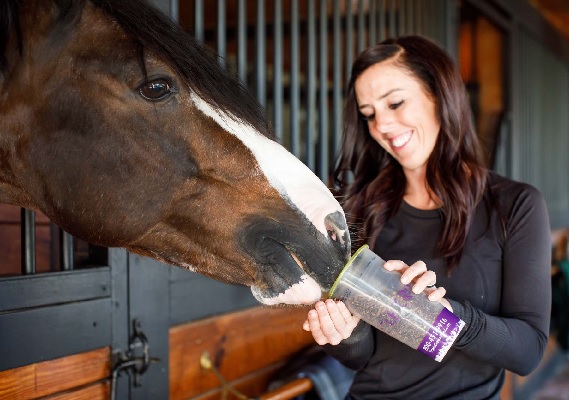 Corn has low nutritional value 
Corn is low in protein and low in essential amino acids. It is low in fiber and higher in starch than oats. It can provide a quick burst of energy, but it is harder to digest and therefore does not provide a lot of nutrition. Many feeds include corn because it is inexpensive and readily available. At Triple Crown, we don't do what is easy, we do what is right for your horse.
Corn can cause issues
For horses that are prone to obesity, insulin-resistance or laminitis, a high-corn diet can amplify these issues because of its high starch content. Some horses show signs of food sensitivities when they eat corn.  Some horses with more excitable temperaments should have lower starch and sugar diets and corn is high in starch and sugar.  While this might not be life-threatening, if your horse isn't feeling his best he's not living up to his fullest potential.
Alfatoxins in corn can be dangerous
Corn is at risk of containing alfatoxins or other mycotoxins that are harmful compounds produced by molds that cause serious problems for horses. Fumonisin is a type of mycotoxin that can infect corn kernels and cause moldy corn poisoning which can result in neurological symptoms including disorientation, head pressing, ataxia or hyperexcitability.
Not all corn will have alfatoxins, it will depend on where it's grown, how it's harvested and stored or if it's exposed to stress from weather or insect damage. However, infected corn may not show any signs of issues and horses will eat it either way. The only way to determine fumonisin levels are by testing the corn before it's added to the feed.
Triple Crown feeds are corn-free
Triple Crown feeds are always super-premium and always formulated to provide maximum nutrition. That's why our formulas are corn-free, so your horse receives the very best nourishment. And why all Triple Crown feeds contain EquiMix, a blend of key nutrients, including pre and probiotics that help maintain a healthy gut and help protect against pathogens.
To see how Triple Crown feed compares go to www.triplecrownfeed.com/compare.