Cowboy Mounted Shooting
Posted | Tags: CMSA, Mounted Shooting, Performance Horse, Riding, Triple Crown Nutrition
By: Triple Crown Intern, Alex Porter
If You Enjoy Shooting Guns And Riding Horses, This Is The Sport For You
With seven years of experience in the world of Cowboy Mounted Shooting, I can confidently say that this sport is taking the equestrian world by storm.
What is Cowboy Mounted Shooting?
Cowboy Mounted Shooting Association is named as the 'fastest growing equestrian sport in the Nation.' Mounted contestants compete in timed events with two .45 caliber single action revolvers each loaded with five rounds of specially prepared blank ammunition. The Cowboy Mounted Shooting Association (C.M.S.A.) offers a variety of levels of competition ranging from beginner to seasoned professional.
In addition to using single action revolvers, the C.M.S.A. also offers rifle and shotgun classes. These classes require contestants to have two hands on the gun when firing, forcing the rider to attempt to guide the horse while trying to aim, or the drop the reins completely.
There are currently 64 patterns in the C.M.S.A. coursebook that may be drawn for a stage. At a competition, riders will often run 2-4 stages in one day, each stage being a different pattern. You can also download the C.M.S.A Pattern App for a better view of the numerous patterns.
The Basics for Getting Started  
The best way to begin your mounted shooting journey is to sign up for a mounted shooters clinic for beginners. They provide the guns, holsters, ammunition, and everything needed to ensure your first experience with Mounted Shooting is nothing but the best.
Chad Little, with Little's Performance Horses, is a four-time World Champion Mounted Shooter and an incredible teacher. This was the first clinic my dad and I attended, and we were surely set up for success!
Desensitizing Your Horse
 Learning how to desensitize your horse for mounted shooting the safe way, is the best way. Oftentimes many people try and move too quickly; not only can you get hurt, but it can place a lot of stress on the horse and be more of a setback. Here are some tips to help get you started!
Start desensitizing your horse to cap guns, balloons, cones, and all course equipment.
Introduce your horse to real gunfire slowly by starting with ground firing approx. 20ft from your horse.
When ground firing is successful, mount up and fire the gun aiming behind the horse.
Time and patience are key aspects of successfully training your horse.
More Than Just A Sport
Not only is Mounted Shooting fun and exciting, but the other competitors make it worthwhile. Each member of the C.M.S.A is a part of one big family that supports each other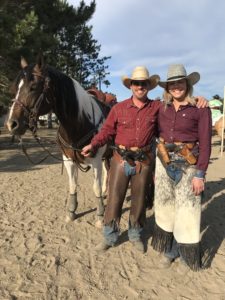 along the way and wants nothing but success for all.
This sport has taught me to be kind, supportive, positive, fearless, and to enjoy life's moments. Within my first year of competing, I quickly realized that winning isn't what mattered most. It was the time I got to spend with my dad, our horses, and the great friends we have made.
Being a part of the Cowboy Mounted Shooting Association has been one of the most amazing experiences of my life, and the lives of many others, so stay connected on Facebook!
Performance Horses Fueled by Triple Crown
I compete on a 25-year-old Appendix horse and a 22-year-old Quarter Horse, and they still run like they're in their prime because of Triple Crown. Twice a day they both get 4 lbs. of Triple Crown Senior, mixed with alfalfa pellets, and top dressed with the Essential Omega Blend Oil. My dad's 13-year-old Paint horse, is fed 30% Ration Balancer.
I have been feeding Triple Crown products for as long as I can remember, and I don't plan on changing that. Not only do I feed Triple Crown because they use the highest quality ingredients, but I feed Triple Crown because of what they stand for, and the passion behind each of their products.