Cross Country Day: Eventing 101
Posted | Tags: English, Riding, Training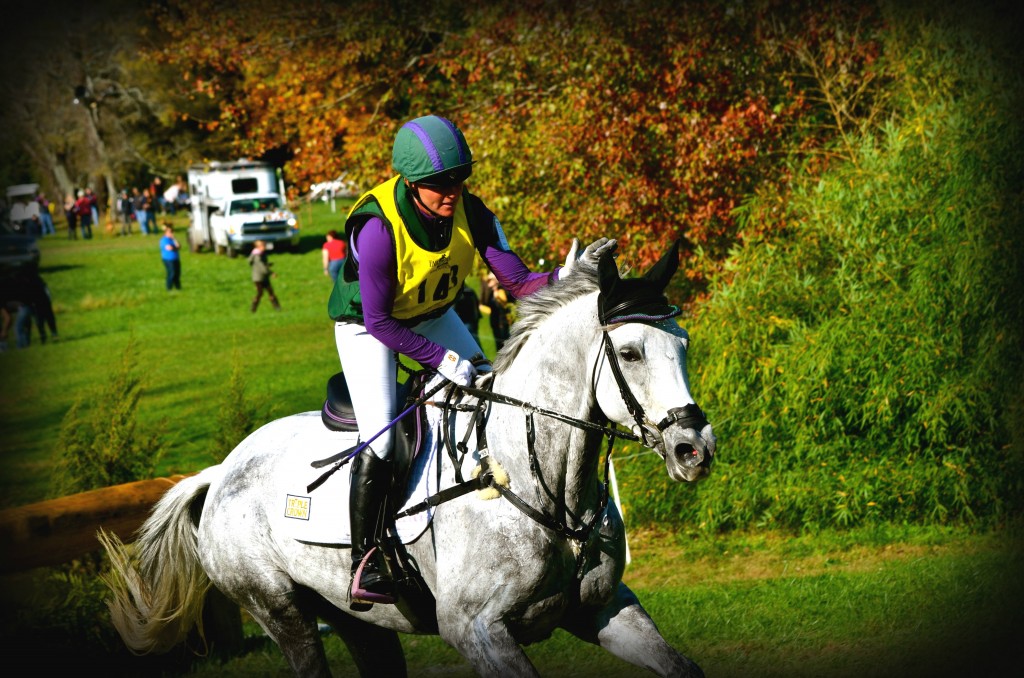 CROSS COUNTRY SCORING
Cross-country is more objectively scored than dressage day. In general, penalty points are given for refusals, run-outs, making circles, and time faults. A refusal is considered the stopping of momentum in front of the fence and a run-out is considered ducking around the fence. Penalties for circling imply that you cannot circle your horse off of the approach once the horse has ÷locked onto' the fence, or has set his eyes on it. The rule also applies to circling before the finish flags (often in an effort to slow down to be closer to optimum time), as this can get you eliminated if jump judges believe it was intentional.
The scoring for these penalties is as follows:
The first refusal, run-out, or circle at an individual obstacle = 20 penalty points
The second refusal, run-out, or circle at the same obstacle = 40 additional penalty points
The third refusal, run-out, or circle at the same obstacle = elimination
Fourth penalized problem on course = elimination
An optimum time is set by the course designer by taking the distance of the course and dividing it by the speed required for that level. The time limit is the maximum amount of time that you can take to ride the course, and this is always twice the optimum time.
Penalties for Speed Faults:
0.4 penalties per second over optimum time
Exceeding the time limit = elimination
RIDER ATTIRE: (**key requirements, unique to cross-country)
Shirt with sleeves (any color, often riders will choose a cross-country color to coordinate with)
Breeches (any color)
ASTM/SEI approved helmet (any color, skull-caps with a flexible brim are allowed)
Gloves (optional but recommended, any color)
Black or brown tall boots, or jodphurs with garters for juniors
**Cross-country vest
**Medical Armband with up-to-date information on the USEA card
Airvest and saddle strap (optional, but recommended for extra safety)
Pinny with number on both front and back
Spurs and crop (optional)
Stopwatch (optional, recommended for upper levels)
HORSE EQUIPMENT:

English jumping/all-purpose saddle
Saddle pad (any color or pattern)
Girth
Number tag
Bridle (most nosebands are permitted)
Bit (most bits are allowed, refer to chart
Breastplate (optional, but recommended)
Running or Irish martingale if required for your horse
Cross-country boots (all 4 legs, don't hold water, and will stay secure through rough terrain)
Bell boots (if your horse has a tendency to over-reach)
Studs (optional, must be either in only back feet or in all four, recommended for upper levels)
TIPS:
Cross-country is frequently an event rider's favorite phase, but it often also the most nerve-wracking and scary. Plan to have schooled cross-country fences and questions that are a level above that of which you are competing.
Walk your course several times, until you know exactly where you are going and where you should be for each minute of the time. Be sure to walk through both the start and finish flags, or it is bad luck!
Still attach your horse's number in case he gets loose. It can be attached to the bridle or the breastplate, just find a location where it will not rub.
Secure the Velcro on your cross-country boots with duct-tape to ensure they stay attached.
Write your optimum time on your wrist in Sharpie, also write ÏUnhook if you are wearing an airvest and tend to forget to unclip at the end of your ride!
When you arrive at the start-box, you will normally have a minute or two to walk around before you begin. Feel free to walk your horse around and through the start box as much as you want.
The timer will announce when you have 1 minute, 30 seconds, and 10 seconds before you start. At the 10 second mark, enter the start box, but do not leave it before the timer says you may begin.
If wearing a watch, set it to countdown from 10 seconds and hit start when the timer says 10 seconds. Then it will continue to count up once those 10 seconds are done, and you can track your minute markers.
If you have other tips you'd like to share, please comment on our facebook posting! Good luck in your cross-country ride. If you are well-prepared, it is one of the most fun experiences you will ever have! Be sure to ask fellow competitors or event volunteers if you have any questions.
MORE INFORMATION:
Visit Discover Eventing for more charts and information, and read through the USEA Rulebook prior to competing!