Emily BeShear- Brickland Eventing off to Bromont
Posted | Tags: News, Sponsored-rider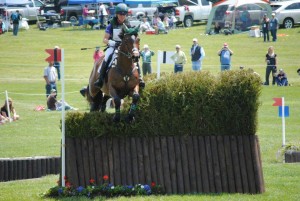 Brickland Eventing Summer Newsletter
We're Bromont Bound! June 4-7th!
It's amazing how quickly the weeks have passed since being at Rolex_ We are currently on our way North with Delta to compete at Bromont! Fingers crossed for a great weekend_ Delta and I have been working hard to prepare and I hope to make this our best event yet! This spring season has flown by with the last month being particularly busy. Besides the upper-level horses that I share the most about we have about a dozen more at the farm in various stages of training. And now that both Jeff and Nicholas are out-competing there it's rarely a quiet moment_
Jersey Fresh CIC*** Results and feedback!
Our last outing at Jersey Fresh had some of our best moments, a fabulous dressage test that put us more than 5 points in the lead, and some areas that needed work, a rather tense show jumping round that took down four rails. Our cross-country round was very solid and Delta felt very confident the whole course so I came away feeling like we nearly had it all together_ The showjumping trouble came as a surprise since she had been having very good rounds at the last several events. I realized afterward that all of the courses this year have been in open, grass rings and Jersey was in a very small sand ring. Delta was obviously uncomfortable in that environment which was good to realize as the course at Bromont is set in a fairly small and spooky arena and we had a few weeks to work on improving that aspect. During the week following Jersey Fresh, I took Delta, along with a few other horses for me to practice on, to the Keswick Horse Show for some of the jumper classes. The jumper ring at Keswick is quite small, highly decorated, and has a very busy atmosphere all around it (including the train coming by within 50 yards every few hours!). I started small classes to give Delta a chance to get comfortable in the ring and to try out a new bridle. She was very distracted and spooky at first but by the third class, she jumped the best that I've ever felt her. The following day I entered her in two bigger classes (the second of which was set at 4'3_) wanting to reproduce the feeling that I had finished on the previous day. Unfortunately, that didn't quite happen_ Delta was just as spooky and distracted as she had been at the start of the first day and with the bigger jumps I wasn't able to get her to relax and go forward. The rounds weren't a disaster by any means but it did show me that I still had work to do_ and that work may take months, not weeks. This past week I've been working at home and have found a few areas to focus on which have helped to keep her more focused on me and therefore more relaxed in her jumping effort. We did another small show on Sunday to practice and while the jumps were not as big I was able to produce two very smooth rounds so I'm feeling good that we're on the right track. And I keep reminding myself that she is still just a baby at this level of competition

More wonderful coaching news from Emily Beshear:
It appears that my summer schedule will be even busier than anticipated as I've been asked to take over coaching the Area IV Young Rider Team as they prepare for the North American Young Rider Championships in Lexington, KY this July. I'll be traveling to Minneapolis to get to know the team and teach a clinic before meeting up with the team again two weeks later in Kentucky. I'm looking forward to sharing my insights with the next generation of event riders!
*permission to repost from Brickland Eventing.
To see more about Emily Beshear and Brickland Eventing in addition to their 2015 show schedule, please visit their Sponsored Rider page.