Setting Up For Success Outside Of The Arena
Posted | Tags: equestrian yoga, horseback riding, rider fitness, yoga
By: Alex Porter, Triple Crown Feed
How can you prepare for the upcoming season when harsh winter weather stands in your way? Give equestrian yoga a try! It is a great way to keep fit for the show season. These unmounted exercises can help improve a rider's core strength, flexibility, range of motion and balance. Improving these areas of fitness allow the rider and horse to move more freely as one, decreasing the risk of the horse developing muscle and vertebral soreness.

How Does a Rider's Movement Affect the Horse? 
As a rider, it is important to understand that each of your movements, including those unintentional, are transferred to the horse. If you don't have the strength and mobility to maintain a balanced seat, your horse will accommodate for you. As a horse tries to balance himself under the weight of a rider, it may experience:
Muscle soreness
Severe pain
Joint dysfunction
Pressure points along the spine
Potential behavior problems
Do you find that your horse bends better to one side than the other or one lead is smoother than the other? This could be the result of an imbalanced rider.
While standing in front of a mirror, ask yourself these questions: Is one shoulder higher than the other? Do you tilt your head to one side? Are your shoulders rounded and forward? These can affect your riding so it is important to think about how they will transfer to your horse ("How Posture Affects Your Horse").
Core Strength 
What is your core? It is easiest to think of your core as every muscle that attaches to the pelvis. The pelvis is the biomechanical superpower of the human body. Every movement of the horse is received by the pelvis, as it is your base of support in the saddle.
Due to modern-day compressive living (remaining in the seated position for long periods), the front of the body begins to shorten, while the back, which is supposed to be one of the strongest parts of the body, is left lengthened and weak. Sitting for long periods presses against the hamstrings which restricts blood flow, as well as tightens the hip flexors.
As an equestrian, a tight hip flexor makes for one uncomfortable ride and creates an incredibly difficult challenge for the pelvis. With poor strength, trying to maintain balance and stability when constantly adjusting to a horse's movement becomes nearly impossible.
Find out more at dbmuscletherapy.com
Tips for Building Core Strength:
Correct your posture— pull your shoulders back, lift your chin and elongate your body
Strengthen your lower back— when you can align and strengthen this area, the abdominals at the front and sides of the body are activated and can carry out their supportive roles with the appropriate level of tension
Don't forget to work your lower abs, obliques/sides, and deep abdominal muscles— basic crunches only target your upper abdominal muscles, but these other areas need attention too
Learn how to do these exercises yourself with Equestrian Biomechanics
Flexibility and Range of Motion 
Flexibility allows a rider to move as one with the horse in a supple and flowing motion. Pelvic and hip flexibility are not only crucial elements in effective riding, but a great way to help minimize injuries. Riders who lack flexibility in their core are often stiff and tense, and tend to grip the saddle with their knees and rely on their hands for balance.
The horse's way of going mimics the posture of the rider. If the rider is gripping and tense, the horse will not be 'through' and flowing, will tense its back and take short choppy strides. Having a high range of motion will not only make your ride more comfortable, but you will easily maintain proper leg positioning and overall body alignment.
Balance 
Building core strength and improving flexibility and range of motion are the key ingredients to maintaining balance in the saddle. Being balanced in the saddle means that your right and left side are working equally and your center of gravity, as well as the horse's, are in alignment.
To improve balance in the saddle, a rider must be able to relax. Balanced riders must develop a feel for where their body is positioned relative to the horse's center of gravity (without looking down and looking straight ahead). The development of muscle memory will also enable you to maintain your equilibrium in motion at any gait without gripping with your legs or grabbing at the reins to stay on.
Not Convinced? 
Triple Crown Insider, Terra Mitzel has been competing in bodybuilding competitions for the last year and recently became the 2019 Minnesota Mayhem Bikini Overall Champion and newly crowned Natural Pro. Little did she know how much of an impact it would have on her riding.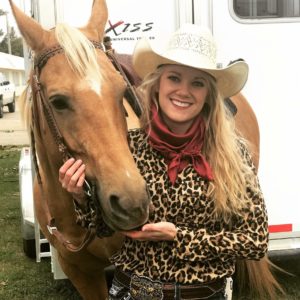 "For health reasons alone, working out is a great habit to get into. However, I noticed a huge difference in my riding capabilities as well. With strengthening my core and body muscles a couple of days a week, I found I had better balance, more control during a race, and a clear mind when running up the alley. I gained confidence in myself, which had a trickle-down effect to my horses while we competed. I look at it as, 'If I expect my horse to be in shape, why wouldn't I leave myself to the same expectations?' This doesn't mean you need to be in the gym seven days a week and only eat chicken and rice for the rest of your life, but riding is a sport, and it takes a lot of muscle to do what we do. Just like our horses, setting our self-up for success doesn't always need to happen in the arena." – Terra Mitzel
As we sit and wait for the green grass and sun to appear, why not try something new? Yoga, in general, has proven beneficial for your physical and mental health by allowing you to relax and find the perfect harmony of breath and movement. Be open to new opportunities and become a better rider, as well as a better teammate for your horse. Not to mention you will feel incredible!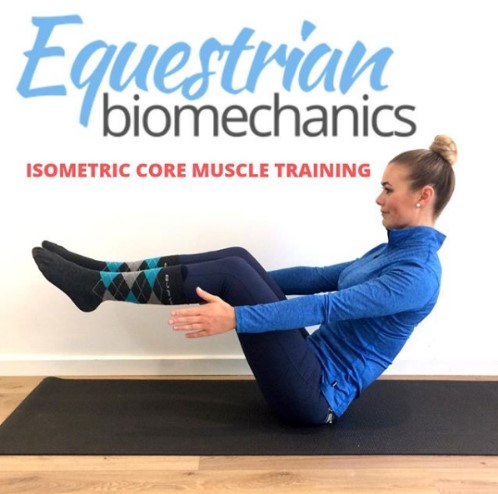 Need help getting started? Visit Equestrian Biomechanics online and on Instagram to get your hands on some great exercises.