Feeding A Champion
Posted | Tags: Dressage, Eventing, horse management, Performance Horse, pony club, Riding, Training, Youth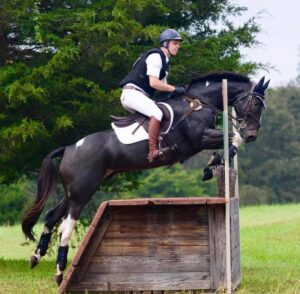 By: Triple Crown Insider, Anthony Forrest
As kids, we all have that one horse that is our best friend, teacher, and pet. They are the ones that can pack anyone around, go anywhere, and do anything you ask. For me, that is my horse, Chip.
I got Chip when I was 14 years old. While I had been riding for many years, I had yet to find that 'best friend' of a horse. Before Chip, I never jumped at a competition and had always dreamed of one day competing at the top levels in eventing.  Although Chip had experience in eventing, he was not the biggest and boldest horse in the barn. He was exactly what I needed. Chip's job was to show me the ropes of the lower level eventing and to move up a level or two in Pony Club. What nobody knew at the time was that Chip was going to be so much more than anyone could have dreamed.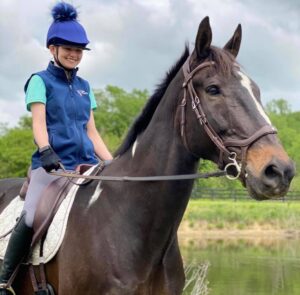 Jump ahead six years. Chip is not only cruising around tough FEI 2*/ Intermediate cross country tracks, but also actively competing para-dressage with a grade lll para-equestrian athlete, aiming for Para-Dressage National Championships in Tryon, NC. I am often asked how Chip can do two totally different jobs at once—he has to be fighting fit and 'hot' off the leg with the heart of a lion to tackle the cross-country phase, while also being quiet like a lamb and light as a feather for his para-dressage rider to be successful. The first key to this successful arrangement is his incredible brain. His trainability, gentle spirit, and incredible heart remain unmatched from any horse I have met. The second is management and nutrition.
To train at the FEI levels of eventing, Chip must be ridden six days per week. His week usually consists of 1 hack day, 2 gallop days, 2 dressage days, and 1 jumping day. On his dressage days (Tuesday/ Thursday), I school him for 30-40 minutes in the early morning, then he has a lesson with his para dressage rider in the afternoon. Without Triple Crown feed, there is simply no way Chip could perform both jobs as well as he does.
Each morning and afternoon, Chip gets 3 quarts of Triple Crown Senior GOLD and 1 1/2 cups of Triple Crown Steam Crimped Oats, along with free-choice alfalfa/orchard hay. We like to soak our feed with warm water to ensure that the horses are all hydrated throughout the year. Up until this year, I had used Triple Crown Senior and was very satisfied with the results, but wanted something to help Chip 'fill out' even more. Days after I switched to Senior GOLD, I immediately noticed that Chip had gained muscle weight and began to fill out perfectly! Usually he is difficult to put weight on and can be a picky eater. However, once I moved him to Senior GOLD, there was no going back!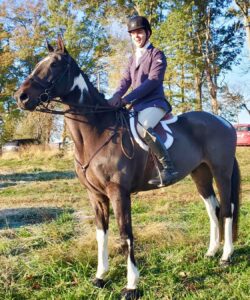 I also love Triple Crown oats because they provide 'cool' energy. This is different to 'hot' energy in that it does not mean that Chip is more reactive to the aids, but rather he has improved endurance and does not tire as easily. This is especially helpful when working with his para-dressage rider. Because of Triple Crown's incredible feed line, Chip is able to maintain an ideal bodyweight and plenty of energy for his two important jobs. I am so thankful to be working with Triple Crown as a Triple Crown Insider and I cannot say enough about the wonderful products they have provided for our horses! Our job would not be possible without them!
Thank you Triple Crown!
–Anthony Forrest and Chip