Feeding Buckeye- The Dressage Mule!
Posted | Tags: Health, horse care, mules, Nutrition, Performance Horse, Riding, Triple Crown Nutrition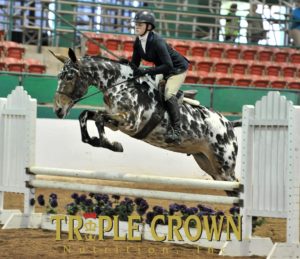 By: Triple Crown Insider- Sammi Majors
I get tons of questions about how we feed Buckeye and mules in general, so here is a blog dedicated just to that!
Typically, mules are very easy keepers. It seems most of them can live on air and stay fat. But with doing that, they miss out on vitamins, minerals, and other nutrients essential to equines.
Buckeye is definitely a very easy keeper mule. We played around with various Triple Crown feed products and have finally found a great fit for him—Triple Crown 30% Ration Balancer pellets. He gets all of the vitamins and minerals he needs and quality protein for muscle and tissue growth, without the additional calories. The 30% Balancer has all of the ingredients we know and love from Triple Crown, including EquiMixâ Technology which features probiotics, prebiotics, organic minerals, and digestive enzymes for improved nutrient absorption.
In addition to 30% Balancer, Buckeye also eats Triple Crown Naturals Golden Ground Flax. This is a Omega-3 fatty acid supplement that helps improve immune function and hair/hoof condition and helps to reduce inflammation in performance horses. All of our horses/mules eat this. They LOVE the taste of it, don't waste it, and really thrive on this supplement!
Finally, no diet is complete without forages. Unfortunately, our pastures are not full of lush grass at the moment (not that Buckeye needs that, as he would blow up like a balloon!). Our spring hay is typically a fescue and winter grain mix hay—rye and/ or oats. Once that hay is gone, they eat a fescue mix hay and often have orchard grass hay as well. For those of you not in this area of the country, (North Carolina to be exact), fescue is just the meadow-type grass that commonly grows nicely here. Of course, Buckeye is quite spoiled, so he gets turned loose in our barnyard at times to munch on the good grass out there!
I have found that this diet works well for a lot of mules, as well as easy keeper horses and ponies!
Our young, growing mules eat similar diets to those for growing horses. Their diets require more for optimal growth, so they eat Triple Crown Growth, along with the Golden Flax supplement and good forage. We currently have a mule with a slightly higher metabolism and requires a little more in the concentrate department so he is on Triple Crown Senior. Even though he is not a senior mule, this feed is great for all ages. The higher calories are just what he needs, but it is low in starch & sugar so that he doesn't develop any excess fat pads that mules can often get.
Learn more about Buckeye below and Go Mules!