Feeding Donkeys and Mules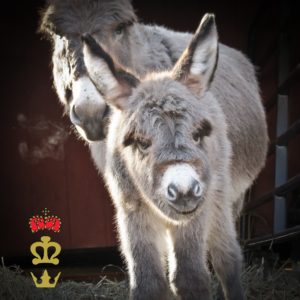 By: Jessica Drexler
Don't fall for those cute faces and long ears, donkeys and mules don't "need" many treats and typically don't require a high fat feed. Donkeys and mules are efficient at getting the most out of a forage-only diet. With ancestors typically deriving from desert areas, these creatures have adapted to grazing on sparse, coarse plants and whatever they could find to graze as they walked many miles each day. Let's look at the best ways to feed and care for these "notoriously easy keepers" to promote optimal health and body conditions.
Fresh, clean water should always be provided.
Next, it is important to make sure that donkeys and mules have their fiber and nutrient needs met.
Hay and Grass
Most of their diet should consist of grass or a mature or low NSC grass hay, but careful attention should be placed on making sure the quality and quantity is not causing them to become too overweight.  Remember they are pretty "thrifty."
Many donkeys will do best when fed their hay in several small meals a day or limit hay if they have access to grazing. If feeding hay, you can extend the length of time they spend eating their hay meals by feeding them in hay nets or slow feeders.
If you have an overweight animal, access to grazing should be greatly reduced, or the animals should be kept in dry-lot paddocks that don't have any grass. Don't forget to consider activity for these friends as well.
Provide essential vitamins and minerals
A good way to make sure that all nutrients are met each day is to find a good vitamin and mineral supplement or ration balancer to feed to your donkey or mule. These supplements can consist of a powdered or pelleted option that will only need to be provided in a small amount. We suggest Triple Crown 30% Balancer because it is low fat, very low in carbs and nutrient-dense. You may be feeding as little as 1-3 cups a day based on the weight and needs of your donkey. Your donkeys will not be able to "sift" through any nutrients and enjoy having a "meal" like their friends. Another option that allows for feeding slightly more volume of feed while still keeping calories and carbohydrates low is to use Triple Crown Lite.
Health Concerns/ Life Stages to consider
Easykeepers:  Bodyweight must be monitored. Donkeys can also be susceptible to metabolic issues like laminitis, insulin resistance or founder, so keeping them at an ideal body weight and regular vet checks is important.
Hardkeepers: Some donkeys due to work-load or reproduction may need more calories than what their forage and vitamin/mineral can provide. Older animals may also have dentition issues making it hard to chew longer stemmed hay.  Utilizing chopped hays or soaked hay cubes can help keep them at optimal weights.  Also, consider adding some no molasses beet pulp or high fiber, high fat, low carb feeds Like Triple Crown Senior to fill the calorie needs.
Triple Crown has options
Triple Crown Senior can provide additional calories and fiber while providing a low starch and sugar option. Our low carb chopped hay, Safe Starch Forage, is a higher calorie, guaranteed low NSC hay, with additional vitamin and mineral fortification.
If you'd like help with feeding your donkeys and mules, or already have your donkeys on our products, we'd love to hear from you. Contact us today.
For additional information, check out The Donkey Sanctuary.