Nutrition for The Working Senior Horse
Posted | Tags: senior horse, senior horse feed, working horse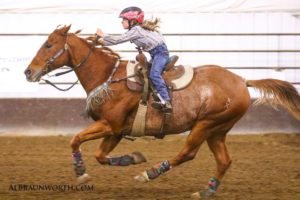 By: Jessica Drexler, PAS
We all know of a beloved old school horse or two at the barn; they carry around newbies learning to ride or bring riders through the levels in the show rings. Some senior horses can be found out on a ranch, still spending the day rounding up cows and calves. Many owners want to be sure that these active senior horses are getting everything they need nutritionally, in addition to carefully managing their aging bodies. So, what do they really need? Let's take a look.
Evaluate your Senior Horse Often
Consistent care with a farrier and vet is imperative to stay on top of your aging horse's health. As the saying goes, "no hoof no horse"- regular farrier care ensures your senior's feet are healthy and regular vet visits may help catch metabolic issues before they're emergencies. Vaccinations are important even when your senior horse is no longer traveling off-farm; consult with your veterinarian to see which vaccines are recommended in your area. A fecal egg count ensures dewormers are doing their job and can also guide you as to what type of dewormer to use. Most vets recommend senior horse's teeth are checked twice a year, and these regular checks will ensure you catch any changes to your horse's teeth that can affect their ability to chew their hay and feed. Regular dental checks should be performed with a speculum and lights so that the entire mouth can be checked for damaged teeth, gum disease, and uneven wear. Careful monitoring of your horse's body condition and watching for any changes to your horse's coat, movement and general temperament could help you discover early signs of issues like arthritis, metabolic syndrome, or Cushing's disease. Monitoring body condition also lets you know when it's time to make a diet change.
Start with The Basics When Feeding a Senior Horse
Forage Is the First Priority for a Senior Horse
Make sure your horse is getting an adequate supply of forage each day (a minimum of 1-2% of their body weight in forage daily, but often more for hard keepers)- access to fresh, clean water and the right feed to supply vitamins, minerals and calories for their individual needs. Senior horses that are still chewing well with no teeth issues can be fed a good quality normal long-stemmed hay. Seniors who have some teeth issues can be supplied with soaked pelleted hay, soaked hay cubes, soaked beet pulp or chopped hays to help supplement daily fiber needs. Some owners will utilize a combination of these fiber sources to help meet daily needs.
Find the Right Feed For Your Horse
Many senior horses have already moved over to a Senior feed to supply them with more calories and help meet their fiber needs. Senior feeds generally provide an easier-to-chew, more digestible feed that is higher in fiber, higher in fat and higher in protein for the increased needs of the Senior horse.  Nutrients such as Vitamin E or Vitamin C tend to be higher in senior formulas as well. Many Senior feeds are high enough in fiber that they can be used as a complete feed-meaning they can supplement or completely replace the forage portion of the diet if needed. For horses who can no longer utilize soaked cubes or chopped forages, a complete diet of soaked senior feed can keep them happy and healthy.
There are also easy keeping seniors who maintain their weight on very little feed with their hay or soaked forage diet, but it is still important their daily vitamin and mineral needs are met, so providing a quality ration balancer is a good way to fill any nutritional gaps that could be missing from their forage diet. A ration balancer is a low calorie, nutrient dense way of getting in any nutrients that the forage alone is lacking.
Feed Supplements to Consider For Your Senior Horse
Fat Supplementation
Depending on the workload and caloric needs of your horse, you may want to consider adding in fat supplements such as flax or oil. Flaxseed is a great way to add in omega-3 fatty acids that can provide beneficial anti-inflammatory benefits for the body. Flax also provides additional protein, aids in absorption of fat-soluble vitamins, boosts the immune system, helps hair and hoof quality and in addition it is a low starch and sugar ingredient that metabolic animals can safely have. You can also top-dress with a quality oil to add in more calories with no carbs.
Joint and Body Care for The Senior Horse
The options for preventative care for the joints, bones, muscles and mobility of your horse is overwhelming.  There are many ways to help improve the overall well-being of your horse from chiropractic care, massage, pulse therapy to the latest wearable accessories, but it is best to do your research and choose carefully. What may seem to work for one horse, may not work for another. When looking at joint supplements you will find many options, but the research available for many of these products is quite limited.  Preventative care, therapies and supplements are best discussed with your veterinarian. Keep in mind that preventative care will work best when started before major difficulties arise, and when you follow the product or therapy recommendations carefully.
Managing your senior horse's diet doesn't have to be difficult if you keep the basics in mind. Make necessary adjustments when your horse needs additional support to thrive or has a special health issue, and work closely with your equine professionals to help your horse age gracefully and stay active.
If you have any questions on the right feed program for your senior horse, contact us today.