Triple Crown® Gives Back to Barrel Racers at the 14th Annual Fiddler's Turkey Run
Posted | Tags: barrel racing, Events, News, Riding, Sponsored-rider, Triple Crown Nutrition, Western, Youth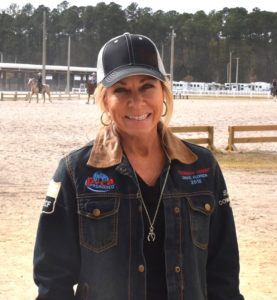 Triple Crown Nutrition Sponsored Rider, Sabra O'Quinn,  At The 14th Annual Fiddler's Turkey Run
Jacksonville, FL (DATE 2016) – In the spirit of giving that surrounds the holidays, Triple Crown Nutrition extended a hand at the 14th Annual Fiddler's Turkey Run by donating 10 bags of Triple Crown horse feed for auction at the barrel racing competition. Held at the Jacksonville Equestrian Center in Florida, the Fiddler's Turkey Run on November 25-27 saw more than 600 entries contest for $106,000 in prize money. Triple Crown donated feed to the event's auction, which benefitted Jacee Beth Thomas, a young barrel racer who suffered significant injuries after being hit by a train in May of 2016.
Triple Crown is dedicated to supporting equine athletes across disciplines and is the Official Feed Sponsor of the U.S. Dressage Team, the Land Rover U.S. Eventing Team, and the Hermes U.S. Show Jumping Team. Additionally, Triple Crown is an official sponsor of professional barrel racer Sabra O'Quinn, who is a chief organizer of the annual Fiddler's Turkey Run barrel race.
"I have been feeding Triple Crown for over 15 years now," O'Quinn stated. "I have had great results – my horses stay healthy and fit, and they look amazing! Nutrition is a big part of my program." O'Quinn, an NBHA World Champion and two-time Southeast Circuit Champion, was gracious for auction donations such as Triple Crown's, which helped raise over $20,000 for Jacee Beth Thomas' family at the Fiddler's Turkey Run. Competitors Lori Butler and Kristi Holliman were the winners of Triple Crown's prizes, and each took home a coupon for five free bags of feed.
Achieving proper nutritional requirements is Triple Crown's mission in order to bring out the best in equine athletes. Mirroring the phases of the esteemed Triple Crown racing series, the company manufactures feeds that address three critical areas: revolutionary formulations, premium ingredients, and EquiMix Technology. EquiMix® Technology enhances highly digestible fiber sources, added amino acids, and key vitamins in every bag of Triple Crown. Although a horse's nutritional needs may change over time, consumers can rely on Triple Crown to always provide a 'fixed formula' – meaning the recipe never changes, regardless of ingredient costs.
Triple Crown Nutrition, established in 1989, strives to support the dietary needs of horses across disciplines and levels. Triple Crown is based in Wayzata, Minnesota, and was the first company to add prebiotics, probiotics, and organic minerals to horse feed. To learn more about Triple Crown, visit the official Triple Crown Facebook, Instagram @triplecrownfeed, and website, www.TripleCrownFeed.com.