Does My Horse Need a Fixed Formula Feed?
Posted | Tags: Fixed Formulas, horse care, horse feed, leaky gut, Nutrition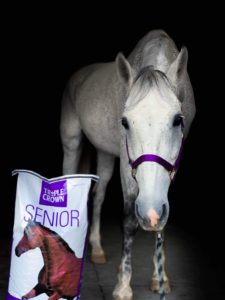 Some horse feeds, like Triple Crown, use fixed formula nutrition. If a feed is not a fixed formula, then it is a least-cost formula, or a "fixed ingredient" formula, which is another way to describe formulas that give the manufacturer flexibility in what goes in the bag depending on the quality of the ingredients. So, what is the difference, and what is best for my horse?
What are fixed formula horse diets?
In fixed formula diets, the formulas are set by a nutritionist and do not vary based on ingredient availability or cost.
At Triple Crown, we take our formulas very seriously because we take your horse's care seriously. We only alter our formula when there is an innovation that would improve your horse's immunity or gut health in a way that will make a meaningful difference. For example, we recently added ButiPEARLTM Z EQ to our formula. This ingredient has been proven to ease the symptoms of Leaky Gut Syndrome and Triple Crown is one of the first to add this innovative nutrient to our formulas.
How can I tell if my feed has a fixed formula?
Some ways to tell if feeds are fixed formulated are if the ingredients are listed specifically, if the guarantees are relatively extensive, or if the feed company expressly states that they are fixed.
The recent enhancements to Triple Crown's formula did not affect the basic ingredients or appearance of any of the diets. In fact, we've increased the guaranteed amounts of many nutrients and will start to guarantee a total microbial count in our feeds because this is such an important element of gut health.
Triple Crown shares the ingredient list and guaranteed analysis on the bag and on our website. For other brands, with ingredients that change regularly, they may not print their ingredients on the bag or share on the company's website.
Why would a manufacturer choose a least-cost formula or fixed ingredient formula?
Well, the name speaks for itself.  But there could be a number of reasons they would go this route. One reason could be they do not have consistent access to high-quality ingredients. Or because they are trying to keep their costs low and their margins high.  Their goal will be to deliver the same general nutrition but swap out ingredients that have similar nutritional content.
A fixed ingredient formula allows for the amount of each ingredient to vary. So, the manufacturer can guarantee an ingredient but vary the amount in the feed when the price of that ingredient goes up or down.
The feed you're using may be least-cost formulated if the tag lists ingredients in general terms such as "processed grain by-products,"  or "roughage products", providing the required minimum or a very limited number of guarantees on the tag.
So, what is right for my horse?
Only you can determine what is best for your horse. However, one of the basic rules of proper horse management is to make changes in your horse's diet very gradually. If your feed supplier is changing the basic ingredients in the formulas on a regular basis, you are no longer in control of your feeding program.
If your horse has any ingredient sensitivities or preferences you may want to consider a fixed formula since you won't know from week to week what is really in his feed.
If you feed a fixed ingredient or low-cost formula and you notice your horse has been moody or irritable it could be because the ingredients in his feed change with each bag.
If you really want the "true" nutrition in your diet consistent from week to week, then fixed formulas are best way to go.
Compare your horse feed

To see how Triple Crown feed compares go to www.triplecrownfeed.com/compare. Read about all the special ingredients found in the Triple Crown's formulas with our unique EquiMix blend of nutrients found in every feed.