Help Your Foal Grow Strong, Healthy and Happy
Posted | Tags: Breeding, foals, Health, horse care, Nutrition, Triple Crown Nutrition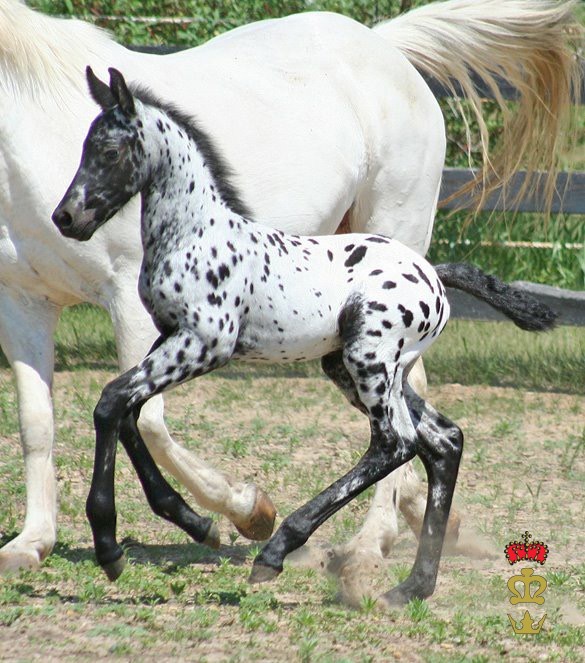 If you have never been around a foal, their growth in the first year is dramatic. Within the first year, foals can reach as much as 75% of mature weight & 90% of mature height.
To raise a strong, healthy and happy foal, proper nutrition is crucial to their growth and development.  The broodmare starts it off right by providing plenty of milk, but at 8 to 10 weeks of age, foals need more in their diet.  Optimal growth relies on maintaining ideal body condition through appropriate calories from proper levels of soluble carbohydrates (starch and sugar), quality protein containing essential amino acids, and adequate vitamin and minerals fortification.
Calories: Providing the proper level of calories to assure consistent growth is key, but not all horses grow the same.  Calories from a high fat, high fiber (beet-pulp based) diet without a lot of grain (especially corn) will help provide the calories that are needed without excess soluble carbohydrates that have been proven to increase the potential for joint problems.
Protein: Quality protein is essential for the rapid growth of tissues and muscle.  The building blocks of good protein are essential amino acids, with lysine being the most critical along with methionine and threonine.  Just looking at the protein percentage is not the best way to compare diets if proper levels of amino acids are not present.
Vitamins and Minerals: This last critical area of nutrition is also necessary for proper bone and tissue development.  Besides balanced levels of calcium and phosphorus, organic minerals will help provide proper levels of other minerals that are just as critical.
How To Introduce Feed To Foals
Nursing foals will show an interest in eating soon after birth, often consuming small amounts of feed from the mare's trough. A creep ration should be provided for the foal at one month of age. Foals can gain 2½ to 3 pounds daily, and with a premium feeds like Triple Crown Growth and/or Triple Crown 30% Ration Balancer,  breeders can take advantage of this early growth potential. Creep feeders can be placed in a pasture or corral and should be built in a fashion that will not allow mares access or foals can be fed individually by tying the mare and allowing the foal its own feed.
Several research studies have shown better growth, heavier body weights, and less weaning stress of weanlings if they have been creep fed as foals. The weaned foal that weighs 1,100 pounds at maturity is expected to gain 1½ to 2 pounds daily at six months of age. Total daily intake of hay and concentrate will range from 2½ to 3% of body weight.
Triple Crown can help provide the proper nutrition with Triple Crown Growth, Senior or 30% Ration Balancer.
Read more on foal nutrition and care.
Click here to learn more about our products and how Triple Crown compares to the competition.