Easy Estimates for Forage Requirements
Posted | Tags: horse care, Nutrition, Tc Stories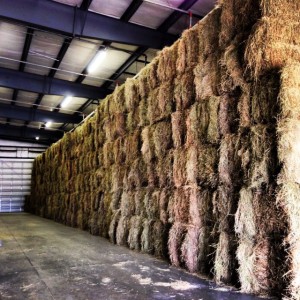 By: Triple Crown Insider- Kaylee Van Winkle
Aside from water, forage is the most important nutritional component of a horse's diet. But how much forage should a horse consume? The amount of forage required for each horse varies according to their workload, breed, health, and concentrate supplementation. A horse's workload can be divided into four categories: maintenance (no work), light, medium, and heavy work. The following information regarding the estimated daily amounts of forage per workload assumes the horse is being fed an appropriate amount of quality feed concentrate. (if needed)
Maintenance
The daily forage needs required for a horse at maintenance equals 1%-1.5%of his/her body weight. (10-15 pounds per day for a 1,000-pound horse)
Light Work
Defined as working 3-4 times per week to condition the horse for types of riding such as trail riding, western pleasure, and lower level dressage. Forage minimum of 1.5% of body weight. (15+ pounds per day for a 1,000-pound horse)
Medium Work
Working 5-6 days per week of a structured conditioning program. Examples of horses in medium work are the following: reiners, jumpers, upper-level dressage horses, and polo ponies. This work intensity requires 2% of body weight to be fed, it is also suggested to supplement with a concentrate to meet calorie needs and ideal body condition. (20 pounds per day for a 1,000-pound horse)
Heavy Work And Lactating Mares
Racehorses and 3-day eventers in training for the competition are competing at the peak of their physical capabilities, lactating mares are also examples of a horse in "heavy work", due to elevated nutrient needs for milk production and maintenance of their own needs. These horses require 2.5% of body weight to be fed in forage, with a suggested concentrate supplement adjusted to meet calorie needs. (25 pounds per day for a 1,000-pound horse)
Forage needs can be supplied through pasture, hay, or hay cubes, some additional beet pulp, and complete feeds. If relying solely on pasture, be sure there is an adequate amount of quality pasture to meet the needs of your horse. It is more difficult to measure the amount of forage a horse consumes from pasture due to the high water content in grass. Therefore, a horse in medium to heavy work should not rely solely on pasture for their source of forage. Supplementing with an additional forage option is generally needed.
Triple Crown produces forage supplements to promote the digestive health of your horse. These products are highly beneficial to supplement the main source of forage in a horse's diet. (Follow this link for more information: https://www.triplecrownfeed.com/forages/)
As you can see, there are multiple aspects in determining the appropriate amount of forage to meet a horse's needs. As changes occur in the workload, concentrates, or health of a horse, be sure to make any necessary adjustments.  Triple Crown Consultants are here to help: call 800-451-9916, visit our "online chat" or e-mail us at info@triplecrownfeed.com for forage or feeding questions.