Frigid Weather and Fundamentals: Keep Your Winter Riding Fresh
Posted | Tags: English, Riding, Training, Western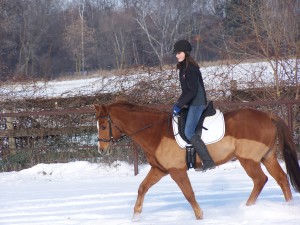 By: Emily Kelly, Triple Crown Insider
Follow along with my goals for my winter riding, and hopefully get some inspiration for your own!
As those of us in the Midwest approach our looming, gloomy six months of winter, the ability to stay productive in your riding often decreases as well. You just finished your last competition of the season, you haven't yet scheduled any winter lessons or clinics, and honestly, no one wants to go chop the ice out of their horses' water buckets! However, those of us residing in wintery states are blessed with the opportunity to go back to the basics over our off-season and create a truly rideable horse for the spring season.
No-Stirrup November? How about No Stirrups Monthly!
This is a dangerous undertaking for those of us who consider riding our primary form of exercise. Prepare for some pain! Start with 3-5 minutes a ride and gradually work up to longer periods of time. Create a goal to ride entirely without stirrups at least one ride each month.
Cavaletti Work
A small indoor or few jumps offers riders a great time to build the correct muscling on their horses. Set up cavaletti's and poles on the ground to a difficulty appropriate to your horse. Work to make the exercises more complex and more strenuous throughout winter to help keep your horse's hind end and back in good shape.
With a young or weaker horse, start with basic single poles on the ground and move to exercises like 3-4 trot poles in a row. As your horse grows stronger, you can increase the number of poles and also raise either one or both sides up a few inches on a cavaletti block. Eventually riding a series of bounce canter poles (approx. 8.5-9 feet apart for an average horse) is a great test of your horse's balance, rhythm, and strength in their hindquarters! Please utilize a trainer to create safe and helpful exercises appropriate to you and your horse's level.
Gymnastics
Using the same principles as in the cavaletti work, setting up jumping gymnastics can be incredibly helpful in improving your horse's jump and strength, as well as your own position. Again, please use a trainer's advice in setting up appropriate gymnastics. Begin with a simple gymnastic such as a series of trot poles to a cross-rail, and gradually increase to include three or four jumps in the line and bounces (based on your horse's ability and knowledge).
Dressage 
Nail your dressage tests in the long, indoor hours ahead! Dressage basics are vital to all types of riding and can only help. See if you can take a few dressage lessons, if you do not regularly. Otherwise, ride with a friend and demonstrate a dressage test for each other before providing feedback like a judge.
Spend time learning new dressage movements when you feel your horse has mastered those at your current level. If you're feeling brave, many barns will host Dressage schooling shows in the winter, which are a great way to provide feedback on your progress!
Homework
There will, of course, be a few days that are just too bitterly cold to venture out of bed, let alone to the barn. These days provide a great time to learn through reading and watching videos. The internet provides a huge amount of free articles on training and riding styles, and there are always classic training books to read on your Kindle or tablet. Also, take the time to watch videos of riders on YouTube. You can sometimes even find a clinic video to watch and it costs you $300 less than riding in the clinic and you get to stay warm while doing so!
Snow Ride
If you have fresh snow, safe ground, and the weather is not too frightful, by all means, get outside for a snow ride! Fun and exhilarating!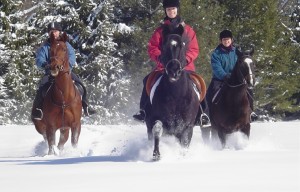 Enjoy your new winter training routine! Make sure to fuel your horse with enough hay and feeds like Triple Crown Senior or Complete, as they will burn extra calories to stay warm through the winter months.