Triple Crown's Sponsored Riders are Racking Up an Amazing Year
Posted | Tags: barrel racing, Dressage, reining, Sponsored-rider
2012 Sponsored Rider Show Updates, Continued:
Hawley Bennett-Awad – Eventing
Hawley Bennett-Awad was an event rider for team Canada at the 2012 London Games riding the mare, ÏGin & Juice. Unfortunately, the pair had a fall in the cross country phase and Hawley spent a number of weeks recovering from injuries. Hawley and ÏGinny were back at it to place 3rd for Intermediate, OI, at the Woodside International Horse Trials held the first week of October. She received top rankings with Gin & Juice and other competition horses she showed during the 2012 season. Hawley feeds

TC Training Formula

,

TC Complete

and

Omega Max

.
Tyra Vernon – Dressage and Reining
Tyra has won numerous high scores & first place ribbons this summer at a variety of dressage shows. FHANA Friesian, Waling M. has been a champion at many shows, including the USDF Region 3 Championships held in GA the first weekend of October. Tyra's young horses are also showing a lot of promise and doing very well in the show ring. The Vernon family also has had great success in the reining circuit with their QH's. Tyra feeds

Triple Crown Complete

and

14% Performance

.
Amy Williams – Reining / Stock Horse Shows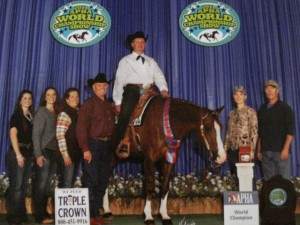 The end of 2011 ended with a bang for Precision Ranch. Duayne Williams was deemed World Champion in the Solid Bred Western Pleasure at the APHA World Championship. This achievement marked a huge success for Precision Ranch, but it also marked the end of an era and beginning of a new one. In 2012, Precision Ranch made a long desired transition into the world of performance with a focus on stock horse shows as well as reining and working cowhorse events. With the help and guidance of Duayne Williams; Amy Williams and her new partner, General Frecklespoco (Gus) are ready to enter the show arena in stock horse events and will make their debut this winter. Gus, a 3 year old palomino QH, like all the other horses at Precision Ranch, is fed Triple Crown Senior. Amy says, ÏThis amazing feed has enabled Gus to grow into a strong athletic horse and provides the cool energy and nutrition he needs to compete in such high demand events like working cowhorse. Precision Ranch is looking forward to a successful show career with Gus and other horses coming along.
Kaley Bass – Barrel Racing
Kaley and her barrel horses, ÏWonders Cowboy Dan and ÏGirl Pal Wonder have been having a great year. Kaley is sitting in 7th place in the 2012 WPRA (Women's Professional Rodeo Association) World Standings for Barrel Racing. She is headed to the National Finals Rodeo in November held in Las Vegas. We wish her the best of luck! Kaley includes

TC Complete

in her feed program.