Grooming The Gentle Carousel Miniature Therapy Horses
Posted | Tags: Youth
Handled Virtually From Birth, The Mini's Are Lovingly Put Through Their Paces To Prepare For Their Role As Miniature Miracle Workers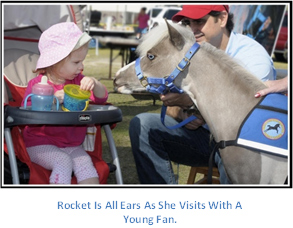 In our first segment on the Gentle Carousel Miniature Therapy Horses, we got a wonderful glimpse into the lives of these miraculous miniature horses: their schedules, lifestyles and the extraordinary impact they have on many of the children and infirmed adults they visit, year round.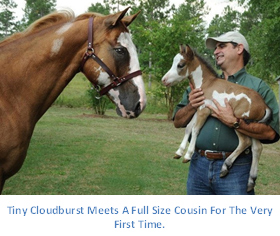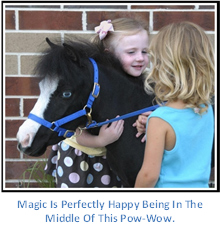 What most people are thrilled to learn is that every miniature horse, used by Gentle Carousel, has their own wonderful back story. Namely, the loving manner in which these enchanting creatures are handled, virtually from birth. Gentle Carousel Miniature Therapy Horses must demonstrate the right balance of friendliness and gentle behavior when meeting new people. As all horse people know, simply teaching a young horse to behave takes a great deal of time and patience. Now, imagine a horse that must not only be housebroken but must be able to calmly walk up and down stairs, ride in elevators and deal with all kinds of new sights, sounds, and smells, all without missing a beat. Additionally, they must behave in a loving, friendly and extremely calm manner regardless of how many strangers, they meet. If you find the notion somewhat overwhelming, well, then you have some idea of just how remarkably well-trained these mini miracle workers truly are.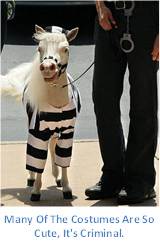 Debbie and Jorge Garcia-Bengochea, the folks behind, ÏGentle Carousel Miniature Therapy, are highly selective about the miniature horses involved in the program. With over 26 miniature horse ambassadors, they've got prepping these mighty mini's down to a science. According to Debbie, ÏMost of our horses come from places where they were handled since birth, so, really the babies have been training since birth and have been introduced to a wide variety of situations, early on. So, they don't tend to find new situations terribly stressful or disturbing. ÏFurthermore, Debbie stated, Ïwith each successive generation of lifelong handled and trained miniature horses, the mini's get better and better behaved. We've really got the training process down, from A to Z. The mini's have to be able to walk up stairs, stand calmly in elevators and tour places like hospitals and houses as well as deal with various pets, equipment, large groups of people and all kinds of floor surfaces, etc. One time, when our most renowned mini ÏMagic, was invited to a radio station for an interview, things got really tricky. We had to take her upstairs in an elevator, over a wooden bridge with gaps that had water underneath it (as well as a waterfall running next to it.) This occurred in a mall and she dealt with it with absolutely no problems.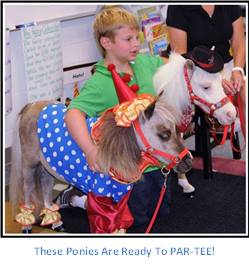 The organization takes training and caring for their miniature horse ambassadors very seriously. They recently joined forces with Joe Camp, (the gentleman responsible for training canine star, ÏBenji,) for a weeklong series of fundraising benefits.What they are doing is just so incredible, Joe offered. ÏThey are making a difference. These people are the real deal. They are down there in the trenches doing it. Joe Camp and Benji were accompanied by several of the organization's therapy horses as they hosted gatherings everywhere from the Ronald McDonald House, in Gainesville, Florida, to an honorary reception at Gainesville's City Hall and a Benji book signing at the Ocala, Barnes & Noble. Not only have Joe & Kathleen Camp worked hard to help the Gentle Carousel Miniature Therapy Horses become wildly popular, but, they've also made valuable recommendations regarding the Mini's nutrition. ÏIt was Joe who recommended ÏTriple Crown's Safe Starch Forage, which makes up the vast majority of their feed, Debbie said. ÏWe keep the feeding pretty simple and look for things that are nutritionally rich. Triple Crown's Safe Starch Forage is a great choice and it really, truly works. They do very well on the diet and have had virtually no problems. Our Mini's are shiny and at good weights.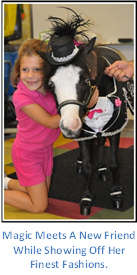 The Mini's have a busy year ahead and are already fully booked through November. (They always keep time slots available for kids and hospice, of course.) Last year, they visited libraries in 8 Northern Florida counties as well as school class rooms, helping children cultivate improved reading skills throughout the region. During 2012, they will continue delighting children with their ÏReading is Magic, appearances as well as visiting at-risk children and adults.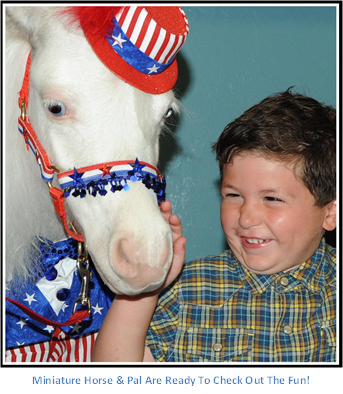 As the second of 3 scheduled articles about Gentle Carousel Miniature Therapy Horses, Triple Crown is eager to help spread the word about this wonderful organization. To learn more about what you can do to help, please visit them at http://www.horse-therapy.org.