Gentle Carousel Miniature Therapy Horses, Reading Is Magic Program
Posted | Tags: News, Tc Stories, Youth
Thousands of children attend Gentle Carousel's Reading Is Magic, summer library programs each year, and you're invited to spread the word!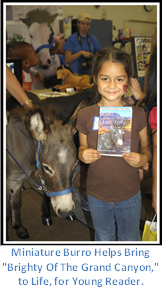 There's nothing more important in determining a child's future than literacy. Which is why, the Gentle Carousel Miniature Therapy Horses are so dedicated to their duties as ambassadors of literacy, love, and laughter.
Since 2005, Debbie and Jorge Garcia-Bengochea have been grooming their miniature miracle workers for participation in specialized, outreach programs; bringing their unique brand of therapy to the community. Over 18,000 children and adults were on hand to meet the mini's as they visited schools, libraries, retirement communities, Make-A-Wish events, etc., during 2011, alone!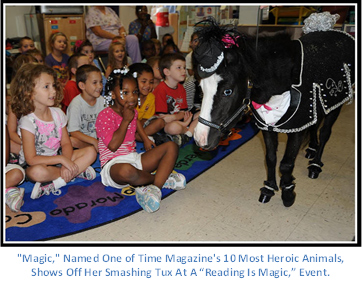 The Reading Is Magic, the portion of these horses' efforts, focus on having the ponies attend Book Fairs and Literacy Festivals where they are featured, guests. The Garcia-Bengochea's have hand-selected several miniature horses that look like the literary characters in many of the organization's most popular reading selections, books such as: Run with the Wind, Black Beauty and Year of the Black Pony. They've even included a miniature burro for appearances where Brighty Of The Grand Canyon, is featured!
What's Better Than A Tiny Horse In Your Classroom?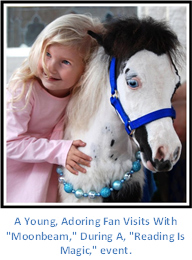 Diane Colson, Senior Library Manager, Youth Services Coordinator for the Alachua County Library District is a big fan of Reading Is Magic. According to Diane, they have a whole program that they do with the children in the schools, where they get the kids to promise that they will read 15 minutes each and every day. In exchange, they're rewarded by getting to visit with the mini's, right there, in the classroom. A lot can happen when you do something for 15 minutes every single day so that's huge. Horses and happy children and more reading!
Former Secretary of Education, Bill Bennett, had this to say: Your Reading Is Magic, program, and volunteers are heroes every time they walk into a school or library. Using little miniature horses to inspire young children to read is most creative. Congratulations on your wonderful charity, spirit, and service to your community.
Part of what makes Gentle Carousel so extraordinary is their steadfast commitment to getting the ponies from home to their many scheduled appearances, successfully. According to Debbie Garcia-Bengochea, Every miniature horse is chaperoned by three people, on every single outing. Sometimes we take as many as eight of our mini's to a single appearance, though we normally take two to three. We're on the pal system, meaning that every miniature horse travels alongside a miniature horse companion. Every pony is allowed to go to up to 2 appearances per week, for a maximum of two hours per appearance.
The emphasis is on the horses' welfare, so miniatures are given plenty of time to live their lives naturally; getting as much pasture and social time as they need to be truly happy horses. By managing the mini's this way, Debbie said, it helps to ensure that they're genuinely happy to be out and about, making new friends, during their visits.
Not only does the Gentle Carousel organization supply the featured, carefully trained and selected miniature horses but they also offer books, bookmarks, certificates, posters, educational coloring books, lesson plans, and author book signings; creating a truly comprehensive, well-rounded program.
Combine these heroic horses, well-planned activities and the many exquisite custom costumes, created by the group's volunteers, and it's easy to see why the Gentle Carousel Therapy Horses', ÏReading Is Magic, the program is such a hit with young, at-risk kids.
We Start Our Horses On Triple Crown Safe Starch Forage Early, To Help Them Stay Happy & Healthy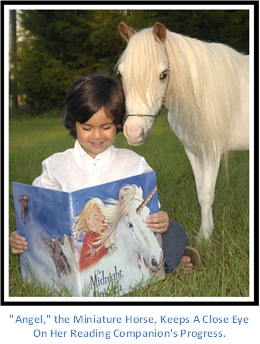 At Gentle Carousel, the horses' welfare is paramount. Not only are they carefully hand-trained, virtually from the moment they're born, but, they also get the best possible nutritional care. Maintaining our horse's health is critical, as miniature horses can live to be 25 to 35 years of age, just like their bigger horse and pony relations, Debbie stated. We're fortunate to have wonderful Florida weather, ten months out of the year, allowing our mini's plenty of pasture time. We also do a notable amount of supplementing with ÷Triple Crown Safe Starch Forage.' This combination, along with the occasional pellet treats, keeps our miniature horses' looking and feeling good, year-round.
This is the 3rd of a 3 article series about the Gentle Carousel Miniature Therapy Horses. Join Triple Crown Nutrition in spreading the word about this genuinely inspired organization. To learn more about, Reading Is Magic please visit: www.horse-therapy.org.