Gentle Carousel Miniature Therapy Horses
Posted | Tags: Youth
These Mighty Minis Are An Enormous Hit With Visitors-Young, Old And In-Between
There are numerous horse therapy programs where people take their special needs children to ride especially docile horses and ponies. But, did you know about the program that promotes life-affirming, one-on-one connections between miniature horses and at-risk children and adults? These teeny-tiny equines are thrilled to go wherever they're needed, be it a child's home, a residence for senior living or a specialty fund raising event. Because of the special dedication of this organization's volunteers, these mini's share their unique brand of heart touching magic with people in need, throughout the country. Boasting more than 26 tiny therapy horses, all specially selected and trained to interact gently with children and adults, Gentle Carousel Miniature Therapy Horses, visited over 18,000 people during 2011, alone! Whether they're hosting a fantasy tea party for a child facing a life-threatening illness, participating as part of an ongoing program for autistic children or visiting the elderly and/or infirmed, these well trained, affectionate ponies can be counted on to bring joy to virtually everyone they meet.
The minis and their handlers travel throughout Northern FL and Georgia to brighten up the lives of at-risk children as well as people in hospice care, Alzheimer patients and the like. These tiny horses, often outfitted in charming, original costumes created by volunteers, have become so expert at delighting and amazing the folks they visit, that one of their herd, a blue-eyed mare called ÏMagic, was named one of history's most heroic animals by Time Magazine/CNN as well as AARP's Most Heroic Pet in America for 2010. Triple Crown Horse Feed wanted to spotlight both the people and the horses that make this organization such a phenomenon.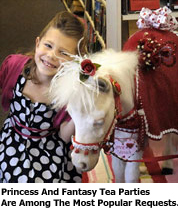 Launched in 2005 by Debbie and Jorge Garcia-Bengochea, this amazing couple first acquired an interest in horses after adopting 3 boys who had been severely neglected. They felt it was important to explore equine or animal therapy to help engage their own children. After attempting to use normal size horses to work with their kids, they quickly determined that smaller, miniature horses held the key for touching a child's heart without being so intimidating. Debbie, a school principal at the time, was initially inspired by a chance meeting between a miniature horse and a bedridden elderly patient. Upon taking the miniature horse to visit him, the gentleman began to go outside with his walker, keen for another glimpse of the lovable mini horse. Word spread and the phone calls started pouring in from a variety of organizations, including the ÏMake-A-Wish, foundation. So, 6 years ago, Debbie and Jorge took the big step of becoming a nonprofit organization, paving the way for this unique training program and its profound impact on people's lives.
Getting The Minis To The Meet & Greets.
Shuttling the ponies to meet their many friends is a major undertaking. ÏFirst of all, every single miniature horse is accompanied by 3 people, whenever they go out on an appearance. While we sometimes take as many as 8 of our horses to a single event, we usually take 2-3 at a time. Every miniature horse gets to travel with another miniature horse buddy, Debbie explained. ÏEach pony works up to two days per week for a maximum of 2 hours per visit. It's important that our miniatures have plenty of time to live their lives, in a natural manner. This helps to insure that they're genuinely excited about meeting new people, when it's time for their outbound visits.
Every visit is custom tailored for the individual or facility. ÏWe typically dress our mini's in beautifully designed, custom made costumes, completing their look with everything from polished hooves, fairy dust and sparkles, Debbie elaborated. ÏOur volunteer, pony-wear designer whips up everything from 50_s sock hop attire to doctors, clowns, cowboys, princesses, and much, much more. At Halloween, we dress them up in holiday outfits like scarecrows and witches and go trick or treating amongst the patients. The sight of these gorgeous, tiny horses in these beautifully appointed outfits is virtually always an enormous, crowd pleaser. Our little horses not only get patients talking & laughing, they often get chair-bound patients up and walking alongside, as well!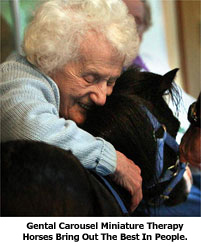 Keeping the ponies in the pink of health is a major priority for Gentle Carousel Miniature Therapy Horse staffers. ÏMiniature horses can live to be between 25 and 35 years of age, just like standard size horses and ponies, so, starting them on the right diet, early in life is critical, Debbie volunteered. ÏOur miniature horses get plenty of pasture time, with Florida's 10 months of pasture friendly weather. The vast majority of their supplemental feed is Triple Crown Safe Starch Forage. The minis also get pellets, now and again, as treats. This nutritionally rich menu keeps our minis shiny, at the right weight and feeling good. Like most horse owners, we're always concerned about our horses' health. When our horses are happy, we're happy. And, that means we can continue to reach out to those children and adults who count on us to make them happy too.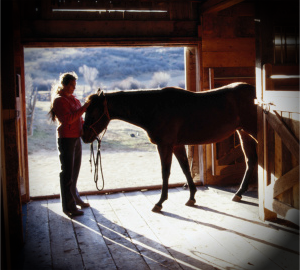 As the first of 3 scheduled articles about Gentle Carousel Miniature Therapy Horses, Triple Crown is eager to help spread the word about this wonderful organization. To learn more about what you can do to help, please visit them at http://www.horse-therapy.org.
@
Related posts: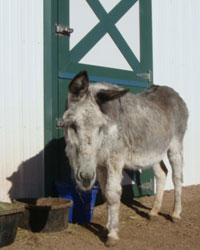 At 70 Years Of Age, Flower is The World's Oldest Donkey