Getting the Most from Your Warm-up
Posted | Tags: Dressage, English, horse shows, Performance Horse, Riding, Sponsored-rider, Tc Stories, Triple Crown Nutrition, U.S. Dressage Team, United States Equestrian Federation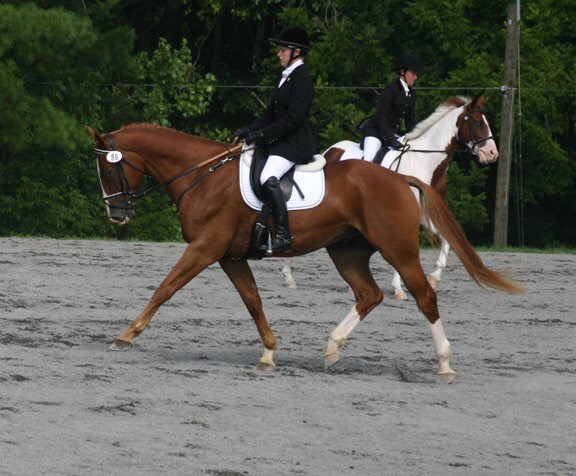 By: Triple Crown Insider- Sammi Majors
As competitors, we know that the few minutes (or seconds) in the show ring are the cumulation of many hours, days, weeks, months, and even years of hard work, preparation and training at home. Nothing will ever change that. While nothing will replace all that work at home, having a good warm-up is the second most important thing to your success in front of the judge. This blog outlines what I like to do when warming up my dressage horses before going into the ring.
Certainly, all horses have different needs in their warm-up routines, but whether I'm warming up for an FEI test or an Intro level test, I have the same requirements for my horse (or mule).
They need to be:
Relaxed
Supple
Light/responsive to my aids
Engaged and pushing from behind
If you do not have those things, the rest will not happen.
I typically get on 30 minutes before my ride time. I start with a nice long walk, having the horse stretching down and out, bending left and right loosening and suppling both sides of the body, always maintaining a forward and marching walk. Typically, in a busy warm-up arena you cannot do tons of changes of directions at the walk to really supple, so I just use true and counter bend. I then move into some lateral suppling. This always involves some leg yielding no matter what level the horse is at. If it's a more advanced horse, I add in some shoulder-in to halfpass, renvers, and travers. This really works on suppling the entire body, listening to my aids, and using them correctly.
Once I begin trotting, I repeat what I did in the walk. I work on the suppleness with the lateral movements, while making sure the horse is listening and light. I also do many transitions within the gait. This guarantees that the horse is moving forward off my leg and pushing from behind, but also coming back to me. When coming back, the horse is not allowed to fall on its forehand and get heavy, rather it must carry itself and stay active.
When moving onto the canter, I continue to do transitions within the gait that are fair for the horse's level. For greener horses, I always ride in a medium canter, really get them coming up and out through their shoulders and withers with a big, round canter. If the horse is capable, I add in shoulder-in and haunches-in at the canter to get that suppleness along with counter canter for balance. If not, I work on circles with true bend and counter bend for suppleness.
Once all of that is done, I'm about 20 minutes into my warm-up. Ideally, the horse is now relaxed, supple, responsive, and engaged. I then run through a movement or two that the horse might be struggling with—but as the old saying goes, "if you do not have it at home, you will not have it at a show" and that could not be truer. The warm-up arena is for just that…a warm-up, not training. I often see riders schooling movements or the entire test multiple times before going into the show arena, and they completely forget or do not focus enough on the four things listed above. These riders usually end up leaving their best ride in the warm-up arena because their horse is now tired from too much work in the warm-up.
I also like to give the horse a walk break for the last couple of minutes before going into the ring.  This gives them a chance to catch their breath and recover momentarily before a demanding test.  Remember that "demanding" is relative. As a rider, you may think that a training level test is easy, but if your horse is truly a training level horse, that is a demanding ride for him at his current level of training and strength. This also gives me some time to catch my breath and think about what I need to do as a rider to get the most out of the horse for the judge.
So always remember that less is more and that your warm-up is simply that, a warm-up to show off the training that you have done prior to arriving at the show. Most importantly, once you complete your warm-up, remember to HAVE FUN showing off your hard work in the test, because that's what it's all about!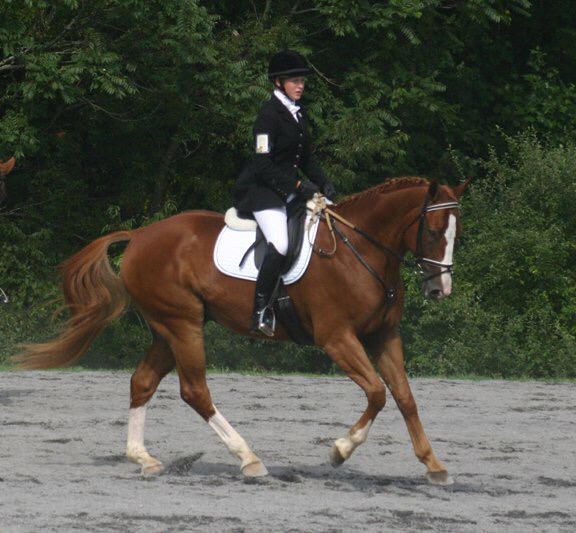 Learn more about our Triple Crown Insider Program.