Getting The Most Out Of Your Clinic Experience
Posted | Tags: Clinics, English, Events, horse care, Performance Horse, Riding, Sponsored-rider, Training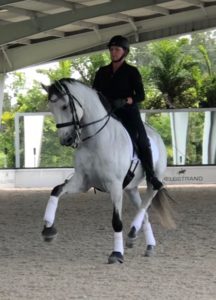 By: Sponsored Rider, Tyra Vernon
Riding Clinics are an Investment
A riding clinic is an investment of time and money, and you want to make the most of it. For me, following the three P's: Preparation, Professionalism, Positivity -helps to optimize clinic experiences and enhance the learning environment.
Preparing yourself and your horse is key to maximizing any clinic experience. I have found putting some extra effort into readiness, builds a foundation for a more meaningful learning experience for you, your horse and the clinician.
Be Ready For Your Clinic
Actually, preparation begins days before the event. Let's face it, traveling with your horse is an experience of its own, and if you thought packing for kids was hard, packing for your friendly steed is double trouble. I have a checklist of things that need to be squared away before I start the engine and head down the road. My checklist includes things like: vehicle/trailer maintenance, planned routes to clinic facility, health papers/Coggins, first aid & medical supplies, adequate stabling (If traveling with stallions, is the facility equipped with stallion stalls?), packing proper horse feed, planning ahead with rider & horse attire, and making sure that your tack/clothing is cleaned and properly fitted.
Regarding attire, while I've attended clinics where some riders might have appeared a tad disheveled, I believe that the way riders present themselves reflects on how serious they are about riding and education. Arriving for a lesson with a well-groomed horse, clean tack and fitted riding clothes gives a solid first impression. A tucked-in shirt with a belt and form-fitted clothing creates a polished appearance while demonstrating a professional attitude.
Plan on arriving at the clinic facility with plenty of time to get yourself and the horses settled in. A little personal-orientation time can really pay off. During clinic breaks, I try to walk my horses around the arena so they become better accustomed to the new sights. You don't want to waste lesson time, introducing your horse to the new surroundings. Also, give yourself a chance to watch a few other riders. Not only is it a good learning experience, but it gives you an opportunity to get a feel for the clinician, especially if you have no previous experience riding with him/her. Don't forget to double check the lesson schedule for last minute changes and to be absolutely, positively, on time. No clinician wants to be delayed by an improperly prepared or delayed student.
Come Ready to Learn, Mingle and Have Fun
Be upbeat and open-minded! To enjoy a successful clinic experience, you must use the occasion to meet and interact with the other riders and staff as well as the presiding trainers. Be sociable, have fun and really take advantage of this chance to meet and greet! A smile and a pleasant attitude go a long way towards promoting positive dynamics within the group. It's also critical to walk into your lesson with an open mind and a willingness to learn. Concentration is absolutely key. This is your time to learn, so keep quiet, smile and focus on what the instructor is saying. Bring a notebook to take notes with, after your clinic sessions. This will help you remember what you learned and give you a handy resource to refer back to.
Finally, be respectful of the facility and its rules. Always keep your area tidy and organized. Most barns feed in the mornings, so, I pack Triple Crown Feed into individual bags for easy distribution. Placing each hay and grain portion in front of each horse's stall offers a simple, winning strategy for keeping every horse on the correct diet.
Show Gratitude
Take the time to thank the clinician and clinic host. Having hosted clinics myself, I am aware of the time and energy commitment required to put on the event. I take advantage of several clinics throughout the year. They are a large part of my riding education, and I am extremely thankful to all the people that help make these events possible.
So remember the three P's:  Preparation, Professionalism, and Positivity to make your clinic experiences as enjoyable and worthwhile as possible.
Tyra Vernon is a FEI level trainer and competitor based out of Ocala, FL. She has earned her USDF Bronze, Silver and Gold medal and has won several Regional Championships and Reserve Championships in USDF Regions 2, 3 and 4. Tyra is accepting clients at BREC Dressage in Ocala, FL and booking clinic dates. She can also help you find the horse of your dreams.