Giving Thoroughbred Racehorse's a Second Chance
Posted | Tags: English, News, Riding, Training, Western
Giving Thoroughbred Racehorse's a Second Chance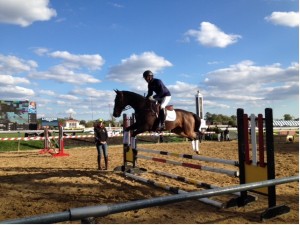 Phillip Dutton riding OTTB, Icabad Crane
2014 America's Most Wanted Thoroughbred winner
By: Triple Crown Insider, Madison Nichter
When most people think of a Thoroughbred, they think racehorse. When I think of a Thoroughbred, I think of a versatile breed that deserves more credit than it's given. As an owner of OTTB's (Off the track Thoroughbred), I've seen firsthand how flexible these animals can be‰ from Kentucky Derby winners becoming trail horses to last place finishers becoming world-class sport horses.
This past weekend at the Thoroughbred Makeover and National Symposium, held at the Kentucky Horse Park in Lexington, KY., they showcased hundreds of OTTB's performing multiple riding disciplines. It was an opportunity to display the talent of OTTB's in their second careers, and also educate others that the Thoroughbred is not just a racehorse. The event also brought some well-known riders, such as 2014 Breeders Cup Distaff winning jockey, Rosie Napravnik, and 4-star eventer, Laine Ashker.
This year's Thoroughbred Makeover stands out because it is the first time that it has been open to trainers of all experience levels. Along with professionals, there were amateurs and juniors competing in the 10 disciplines which included: barrel racing, competitive trail, dressage, eventing, field hunter, freestyle, polo, show hunter, showjumping and working ranch.
Out of all the disciplines and competitors, there was one pair that stood out from rest and earned the title of America's Most Wanted Thoroughbred. Lindsey Partridge and her own OTTB Soar were awarded the top spot. Lindsey and Soar competed in freestyle where they placed in the top three to go on to the finals on Sunday and were crowned America's Most Wanted Thoroughbred.
Today, more and more people today are promoting OTTB's athleticism, tractability, and quality as a sport horse as well as a partner. When you pick a OTTB, you are not only giving them a second career but a second chance at life too.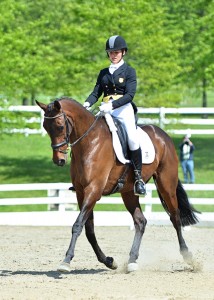 Lynn Symansky riding OTTB, Donner.   The 2015 Retired Racehorse Project aka Thoroughbred Makeover and National Symposium has just wrapped up, and Triple Crown was one of the sponsors and vendors at the show. It is a treat to see so many great trainers showcasing the talent of the OTTB. We wanted to show some of the video footage we were able to grab from a few of the demos. Enjoy!

Rachel Jackson and Roman Riding Demo

Phillip Dutton ‰- jumping demo