A Glimpse into My Life in the Netherlands
Posted | Tags: Breeding, English, Events, horse care, Riding, Sponsored-rider, Training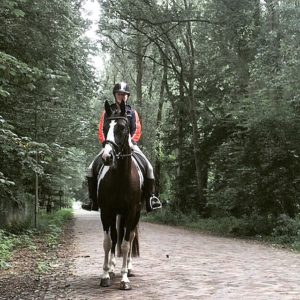 By: Triple Crown Insider- Sammi Majors
I have the great opportunity to spend six months in the Netherlands working with all kinds of dressage horses. The main reason for my trip is to prepare a three-year-old Friesian stallion, Stoarm, for the Dressage Talent Cup competitions. Of course, while here I am doing lots of learning!
My host family, who owns Stoarm, has many other horses that I'm working with as well—from Friesians to Warmbloods, to Sport Ponies. They also arranged for me to be a working student with a very talented trainer and instructor several times a week. He mainly has warmbloods in his stable, but some Friesians as well. It's been amazing to sit on many different upper-level horses and learn so much from them, and it's helping to push my riding to the next level. My host family also acts as a middleman for selling horses. In turn, I am the lucky one to ride these horses for the videos sent to potential clients. Riding both young and upper-level horses presents a unique challenge of having to get on and figure out the horse very quickly to make it look it's best almost immediately for sales videos.
I've been asked time and time again about how the Netherlands compares to America. One thing that is exceptionally different is showing, at least for dressage. In America, going to a USDF Dressage show is usually a big weekend deal, but not here—they show all the time! Their KNHS Dressage shows are held throughout the week and on weekends. During the week, they start no earlier than 5 p.m. so people have time to get off work or school, and they typically go until 10 p.m. or so depending on the number of entries. During the summer, shows are outside and typically in grass fields with no "real" arena, just the 20×40 meter area measured off with letters stuck in the ground and typically no rail. The large arenas (required for Z level which is similar to the 3rd level in America and higher levels) have a rail but often show on grass too. While it is very flat here, these grass arenas aren't perfectly level or manicured, something a lot of Americans would have a fit about! In the fall, with much less daylight and very wet conditions, the shows are moved indoors for the rest of the year.
Additionally, trainers don't typically haul a huge load of horses for themselves and clients.  Almost everyone has their own car (literally) or SUV and trailer to haul their own horses. Some people have a truck that hauls more than one or two horses, but you do not see many of those out on a regular basis.
Furthermore, I absolutely love how many kids are showing dressage here. You don't always see lots of young riders at dressage shows in America, but here they are everywhere! And when there are kids showing, there are spectacular sport ponies! Can't beat that!
Finally, there is a huge difference in the cost to show. For just regular KNHS Dressage shows, it is typically 12-15 euros to enter, which is so much cheaper than in America. A trade-off to low cost is that most of the time there are only ribbons for 1st and maybe 2nd place. If it makes it more affordable, I think that's great. There are also no separate divisions for professionals, AA, and Jr/Yrs. Ponies get their own division, but otherwise, everyone is in a class together for their level.
It's been an unforgettable experience so far, and I can't put everything in one blog post! I'm learning so much both on and off horses, meeting lots of amazing people, making great connections, and I'm soaking up every minute of it!  I do miss everyone back home, both two and four-legged, but when an opportunity like this presents itself, you can't pass it up!  The worst thing about it here? No dressage mules…or really any mules, I'm very long ear deprived!