A Gut Check for You and Your Horse
Posted | Tags: horse care, horse management, leaky gut, leaky gut syndrome, ulcers
By: Cody Swan, Equine Division Manager, Kemin Animal Nutrition and Health
Is your horse acting off lately? He may be experiencing Leaky Gut Syndrome. We asked our partners at Kemin Animal Nutrition and Health to explain what Leaky Gut is and how their equine nutrition innovations, found in our EquiMix blend, can help your horse.
What's Tough On You Is Tough On Your Horse Too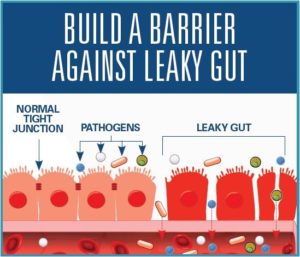 We've all experienced these situations and often our gastrointestinal (GI) system lets us know when we've pushed things a little too far. We get grouchy or irritable, our work suffers or we experience a host of other symptoms that we'd just as soon not talk about. All these symptoms can be due to something called "Leaky Gut" and guess what, the same thing can happen to your horse. The difference is – your horse can't simply tell you what's going on.
Leaky Gut Syndrome (LGS) happens when your horse's gastrointestinal tract is compromised, allowing harmful substances to "leak" into the blood stream. These leaks can start small, but can worsen over time, resulting in:
• Changes in personality/behavior
• Reduced performance
• Weight loss
• Laminitis
• Loose manure or diarrhea
• Chronic or recurrent colic
• Girthy when saddled
What Causes These Leaks? Stress!
There are several stressors that negatively impact the horse's GI tract causing Leaky Gut Syndrome. Stressors such as pathogens or disease can certainly upset the microbial balance in the gut. However, even common stressors such as diet changes, training, travel and heat can damage the gut lining resulting in LGS.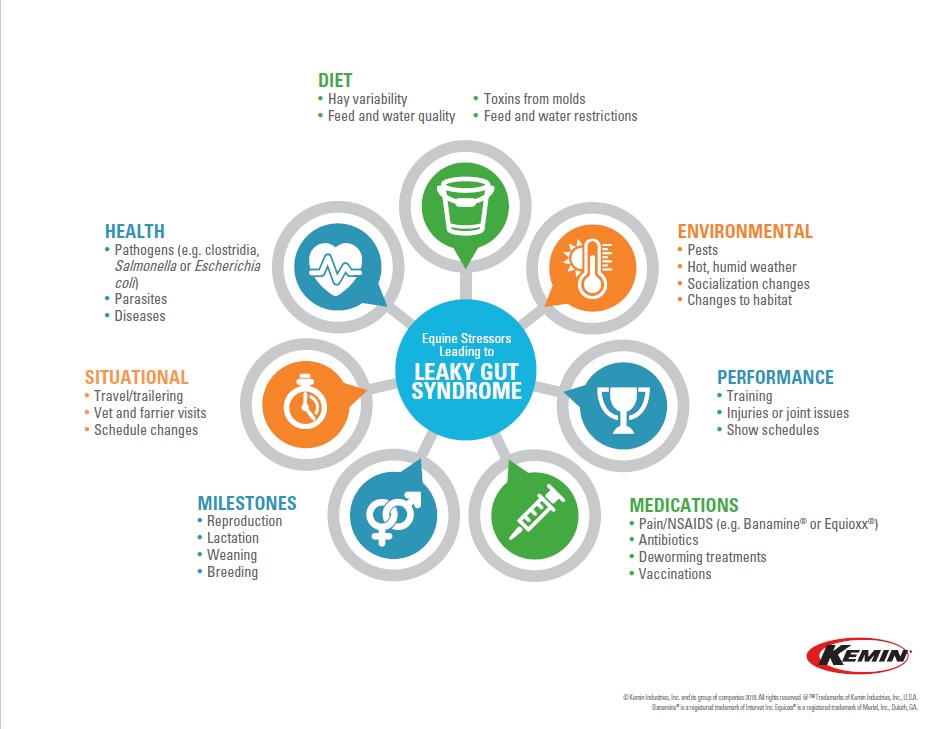 Addressing Leaky Gut Syndrome
Ensuring that your horse has clean water, feeding quality forages and evaluating management practices can all help in the prevention of LGS. Nutritional solutions are also an important item in your toolbox.
Butyric Acid and Zinc
These two nutrients play a vital role in maintaining gut health. They combine to strengthen the tight junctions in the lining of the gut, provide energy to cells that make up this lining and help with the healing of wounds. It's important that these nutrients are delivered to the entire gut – and that's were ButiPEARL™ Z EQ comes in. The proprietary encapsulation technology used in the manufacturing of the product ensures that the butyric acid and zinc are released throughout the upper and lower gut of your horse.
Probiotics
Probiotics can help maintain the microbial balance in the gut and prevent pathogenic bacteria from causing damage. However, they can only make an impact if they are effective against the specific pathogens your horse is exposed to, and if they can survive in the horse's GI tract. CLOSTAT® contains PB6, a patented strain of Bacillus subtilis, that has proven efficacy vs. equine-specific pathogens and can endure pelleting, blending and the harsh environment of the gut.
Solutions Beyond Compare
Almost every horse will experience one or more of the stressors identified in the stress wheel above and a feed program that anticipates these challenges will help keep your horse healthy. All Triple Crown feeds contain ButiPEARL Z EQ and CLOSTAT. Prevention is always better than treatment, so maintaining proper nutrition with Triple Crown feeds can help ensure a healthy gut – resulting in improved performance and overall wellbeing of your horse.
If you think your horse needs a diet change and have more questions on leaky gut syndrome, please give us a call at 800-451-9916 or click here to email us.