2017 Triple Crown Halloween Costume Contest
Posted | Tags: contest, Holiday, News, Tc Stories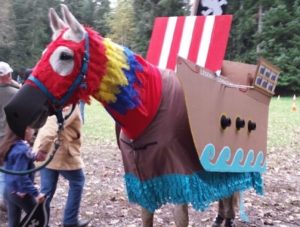 Contest Overview
Enter the Triple Crown Halloween Costume Contest, two winners will be selected. Simply submit a photo of your horse dressed up in their Halloween costume.
Two Ways To Win:
People's Choice Winner-All photo submissions will be placed into a Facebook album titled 2017 Triple Crown Halloween Contest and we will begin a voting period from November 9th-  November 15th. Facebook fans are encouraged to "like" their favorite entry. The photo with the most "likes" will win People's Choice. Get those photos sent to us right away, we will post the Facebook Costume Contest album to our wall and begin voting on November 9th!
Triple Crown Winner– Triple Crown staff will select their favorite entry and announce a winner.
Each winner receives 3 free bag coupons and Triple Crown swag.
Purchase of Triple Crown products is not necessary and will not increase your chances of winning. No other purchase necessary.
Your participation in the Contest constitutes your full and unconditional agreement to these Contest rules (Contest Rules) and judges' decisions, which are final and binding in all matters. Void where prohibited.
Contest Rules
ELIGIBILITY:

Submit a photo to Triple Crown by email, Facebook, Twitter or Instagram. One entry per person.

SUBMISSION PERIOD:

Entries will be accepted from 8:00 AM CST on 10/26/17 through 11:59:59 PM CST on 11/7/17.

HOW TO ENTER:
Email: your photo to us at jdrexler@triplecrownfeed.com with the subject line: Triple Crown Costume Contest.
Facebook: submit a photo on our Facebook page being sure to label Triple Crown 2017 Costume Contest.  You can also send us a photo via private message on Facebook. (use #TCNcostumecontest)
Twitter and Instagram: Send us a photo through Twitter or Instagram, please tag our account name (@TCHorseFeed on Twitter) or (@TripleCrownFeed on Instagram) and also use #TCNcostumecontest hashtag. 
 *You are solely responsible for ensuring your photo was properly submitted. For Contest submissions using Facebook, Twitter and/or Instagram, make sure to also use #TCNcostumecontest as it helps us find your submission on the very busy social media sites. 
One entry per person allowed.
Announcement of Winners: The winners will be notified by Triple Crown Feed and an announcement of the winning entries will be made on Triple Crown Facebook page, Friday, November 17th. Winners will receive their free bag coupons via mail.