Haven Schatt Debuts Tyrion at the Winter Equestrian & Receives the Triple Crown® Excellence Award
Posted | Tags: English, equitation, Eventing, Events, Show Jumping, Winter Equestrian Festival
For Immediate Release:
Contact: Kelly Payne
kpayne@triplecrownfeed.com
800-451-9916
www.triplecrownfeed.com
Haven Schatt Debuts Tyrion at the Winter Equestrian & Receives the Triple Crown® Excellence Award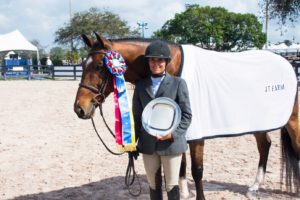 Wellington, Florida (March 2, 2018) – Asking a little more from her mount during week seven of the Winter Equestrian Festival, brought spectacular performances for Havens Schatt and the handsome bay gelding Tyrion, earning them two blue ribbons along with Triple Crown® Nutrition's Excellence Award.
Topping the leaderboard in the $750 Green Hunter 3'3" class, as well as the $850 Green Hunter 3'3" Stake, Schatt and Tyrion not only earned a high score of 90 for one of their trips over fences, but they were also presented with the Triple Crown Excellence Award. This honor is given to a horse and rider team that demonstrates exemplary achievement within the equestrian community, as well as showing exceptionally good health and fitness.
"We did the 3'3" Green Hunter for the first time!" explained Schatt. "Tyrion is a younger horse and he had been doing the 3" Green Hunter and had gotten really consistent. We thought he needed a bigger jump so we moved him up and that proved well because he got a 90 when there were some bigger jumps to jump."
Tyrion, who is owned by leading rider and trainer Jimmy Toon and his wife Ellen, of JT Farm of South Salem, New York, is the perfect example of what makes a high caliber show circuit like the Winter Equestrian Festival so exciting to attend. Proving that when the ideal match is made, success happens quickly. Schatt explained her partnership with Tyrion, saying, "I didn't really know about this horse. When Jimmy and Ellen came down they had just purchased him. So when I came to the farm to ride for them the first couple of days, they told me 'Oh, we have his new horse…'. He's just been really easy and really fun and really cute! So I think the goal for him is to make him up for Ellen to show in the Amateur Hunters at some point."
Schatt was thrilled to receive the Triple Crown Excellence Award tri-colored ribbon, engraved silver tray, and sample products, and is looking forward to many more weeks of intense, rewarding competition. "We are here for season; we came the middle of November and I am going to stay until May first this year," she said. To see more follow this link https://www.youtube.com/watch?v=GT8KGkmqeU4&t=5s
Held at The Palm Beach International Equestrian Center, the 2018 Winter Equestrian Festival runs until April 1 and will feature many more exciting weeks of hunter, jumper, and equitation competition. Offering more than $9 million in prize money, this year's show circuit will draw many of the world's top internationally ranked riders.
When it comes to fulfilling Olympic-caliber horses' nutritional needs during intense competition, Triple Crown Nutrition knows there is no substitute for supreme quality feeds. The renowned feed company was the first to add prebiotics, probiotics, and organic minerals to horse feed, and continues to deliver the very best in equine nutrition.
Triple Crown's unwavering devotion to nutritional excellence is not only apparent in its superior feeds, but in its commitment to supporting the dietary needs of horses across many disciplines and multiple training levels. A proud sponsor of the 2018 Winter Equestrian Festival and the Adequan® Global Dressage Festival, Triple Crown Nutrition continues to recognize accomplished and aspiring riders who have gathered in Wellington, Florida for this prestigious international show series.
Triple Crown Nutrition is the official feed sponsor of the U.S. Dressage Team, the Land Rover U.S. Eventing Team, and the Hermes U.S. Show Jumping Team. To learn more about Triple Crown Feed, please visit the company's official Facebook page or Instagram @TripleCrownFeed, call (800-451-9916), or visit www.TripleCrownFeed.com.
-30-
Photo 1: Havens Schatt and Tyrion receive their Triple Crown Excellence Award during week seven of the Winter Equestrian Festival. (Photo courtesy of JRPR, no photo credit necessary)