Hay Analysis Results: Protein and Digestibility Terms to Understand!
Posted | Tags: Health, Nutrition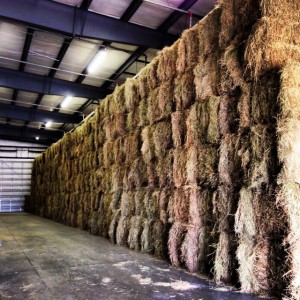 By: Sally Flis, Ph.D., CCA –Feed and Crop Support Specialist ‰of Equi-analytical/Dairy One Laboratories
You have your forage test results back, but what does all this mean and what is it? In the next few articles, we will take you through the parts of your forage analysis. This article will start with crude protein (CP), lysine, acid detergent fiber (ADF) and neutral detergent fiber (NDF).
Crude Protein (CP)
Crude protein is actually a measure of the nitrogen in the sample multiplied by 6.25. This is based on that all protein contains about 16% nitrogen. Protein is necessary for the growth and maintenance of the many components of the body. In horses when protein is consumed it is broken down to amino acids in the small intestine and the cells of the body use the amino acids to make proteins to rebuild muscle, hair and hoof. A horse's protein requirement is based on age and workload.
Lysine
Lysine is an amino acid. In horses, lysine tends to be the limiting amino acid. When one amino acid is limiting the production of new proteins, the horse's body will use it up and convert the excess of the remaining amino acids into carbon dioxide, which is exhaled, and to urea, which is excreted in the urine. This decreases the efficiency of how the horse uses the protein it is fed and may result in a lack of stamina, increased urination, and lack of quality in hair and hooves.
Acid Detergent Fiber (ADF)
Acid detergent fiber is a measure of the least digestible plant components, including cellulose and lignin. ADF values are inversely related to digestibility, so forages with low ADF concentrations are usually higher in energy. Hay and pasture ADF values increase as maturity increases.
Neutral Detergent Fiber (NDF)
Neutral detergent fiber is the measure of all the fiber in the plant: hemicellulose, cellulose, and lignin. The measure of NDF is directly related to the amount of forage that the horse can consume. As NDF increases, intake decreases. Increased maturity increases NDF. Higher NDF forages are usually lower in energy.
If you make your own hay, buy large quantities of hay, sell hay or do a number of these things, you now have valuable information about the importance of testing for the protein content of your hay (or better yet, the Lysine content). If you find that your hay does not meet the protein requirements for your horse, you can look to other hay sources, feeds or additional supplements to help provide the protein needs required.
The importance of knowing the ADF and NDF of your hay also will let you know how digestible the hay is, which again means, how much potential nutrients and energy your horse can receive from just their forage diet. You will be better informed about what your horse may need for additional feed and supplements.
Look for additional blogs regarding other terms found on a hay analysis test.
You may also want to check out these articles:
Is your horse getting the most from your forages?
As Fed or Dry Matter: Understand Which to Read on Your Hay Analysis.
Hay Shortages & Horse Hay Forage Alternatives. How to Address Winter Horse Hay Needs With High Quality Hay Forage Replacements.