Heather Blitz Wins the CDI3* Small Tour Division
Posted | Tags: Adequan Global Dressage Festival, Dressage, English, Events, horse shows, Performance Horse, Tc Stories, Training, Wellington, Winter Equestrian Festival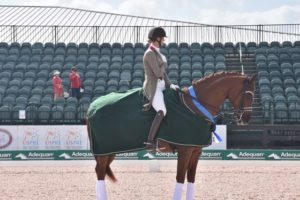 Heather Blitz and Praestemarkens Quatero Win the CDI3* Small Tour Division Sponsored by Triple Crown® Nutrition at the Adequan® Global Dressage Festival
Wellington, Florida (February 5, 2018)—Triple Crown Nutrition has a strong presence in Wellington, Florida, this winter, not only in barns where their products are fed to many of the top equine athletes but also in the show ring! During week three of the Adequan Global Dressage Festival, Triple Crown Nutrition sponsored the CDI3* Small Tour Division. The division included three classes, all of which were won by Heather Blitz and Praestemarkens Quatero.
Blitz is a professional rider and trainer who lives and trains in Wellington and has had great success in the Dressage world. Among her many accomplishments, Blitz was a member of the 2011 Pan American Games Dressage Team and has competed throughout Europe as part of Team USA. Her current mount, Praestemarkens Quatero, is a nine-year-old Danish Warmblood by Quarterback and out of Rohvia who is by Rohdiamant.
Blitz showed the chestnut gelding in the Prix St. Georges CDI3*, Intermediate I, and the Intermediate I Freestyle, making a clean sweep of all three classes to win the CDI3* Small Tour Division with notable rides and scores in each. The pair scored a 71.961% in the Prix St. Georges CDI3*, and an impressive 75.000% in the freestyle with a beautiful ride set to music. To see more follow this link https://www.youtube.com/watch?v=bPeYbCqKWJA
As the sponsor of the division, Triple Crown Nutrition was pleased to recognize Blitz and Praestemarkens Quatero for their excellent performances. Triple Crown has gained a reputation among top professionals not only for their superior products but also for their support of horses and riders competing at high levels. Along with division sponsorship, Triple Crown will present the Triple Crown Excellence Award to winning horse and rider combinations throughout both the Adequan Dressage Festival and the Winter Equestrian Festival in Wellington this winter.
Based in Wayzata, Minnesota, Triple Crown Nutrition is a leading producer of top quality feeds formulated for the performance horse. They were the first to add prebiotics, probiotics, and organic minerals to horse feed, and are committed to producing the very best in equine nutrition with revolutionary formulations and premium quality ingredients.
To learn more about Triple Crown, visit www.TripleCrownFeed.com, call (800) 451-9916 or visit the company's Facebook page or Instagram @TripleCrownFeeds.
-30-
Photo 1: Heather Blitz riding Praestemarkens Quatero to success in the CDI3*. (Photo courtesy of Social Circuit)
Photo 2: Heather Blitz and Praestemarkens Quatero salute for the National Anthem after their sweep of the CDI3* (Photo courtesy of JRPR News, no photo credit required)