Always Available for Horse and Nutrition Advice!
Our sales and customer service goal has always been customer focused and we want to provide the best, most informed and current answers to your feeding questions. Dr. Bill Vandergrift designs and formulates our feeds and has done so since 1990. All of our sales team have had continuous education in all aspects of the equine industry and many sales members are ARPAS certified.
Dr. Vandergrift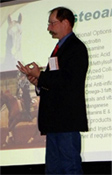 Dr. Bill Vandergrift, is the founder of EquiVision, Inc., an international equine nutrition consulting and performance product manufacturing company located in Versailles, Kentucky. EquiVision has helped horses around the world stay healthy and perform to the best of their ability for more than 20 years. He has also provided technical and formulation support for national and regional feed companies, including Triple Crown Nutrition.
He obtained his PhD in animal nutrition from Texas A&M University and then held a teaching and research position at the University of Georgia where he taught courses in Principles of Nutrition, Vitamin Nutrition, Feeds and Feeding, and Horse Production.
Dr. Vandergrift has helped his clients sell weanlings, yearlings, and 2 year olds for more than a million dollars, win Olympic medals, the Japan Derby and all three legs of the Triple Crown. In 2015, Informa's Petfood & Animal Nutrition 2.0 named EquiVision an Innovation Award Winner.
What makes EquiVision so attuned to the needs of the horse and rider is that both Dr. Vandergrift and his wife Janice are horsemen with a true passion to make a difference. They have bred, foaled, raised, trained, raced and shown their own horses including a world champion, so they understand the frustrations and elations that come with horse ownership and management.
ARPAS
ARPAS is an acronym for American Association of Animal Scientists, an independent certification program for animal industry professionals by species. ARPAS provides certification of animal industry professionals through examination, continuing education, and commitment to a code of ethics. Certification by ARPAS involves species specific training (equine, in the case of Triple Crown employees), a certification test that involves all aspects of equine physiology and nutrition, and requiring annual CEU (certified education credits) to maintain proficiency and membership. Once passed, it allows the ARPAS member to place either PAS or RAS behind their name. Both signify that all the criteria was passed, it just indicates the type of undergraduate education. It is the goal for all Triple Crown sales and customer service employees to pass the ARPAS certification. It is not easy and members of ARPAS or not, we all continue to go through extensive equine training each and every year.
We want to hear from you! Please call or email us with your feeding and nutrition questions: 800-451-9916, email us or Ask A TCN Feed Consultant directly by filling out this short form.