Horse Pasture Management
Posted | Tags: Health, Nutrition
By: Dr. Amy M Gill
Managing Horses On Summer Pastures
With summer in full swing and temperatures rising, managing your pasture in the summer can become a difficult task. When not looked after properly, pastures can become overgrazed, overrun with weeds (some which may be toxic), and with insufficient rainfall, the entire pasture could be in poor condition. In order to prevent your pastures from becoming nutritionally deficient, here are some tips for the management of summer pastures.
Rotate, Rotate, Rotate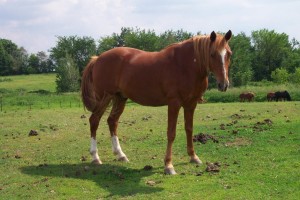 The best way to keep pastures healthy and providing good quality nutrition is to prevent overstocking and when needed, rotate horses off pasture for six weeks to allow for adequate re-growth before re-introducing horses. In general, pastures that are stocked with more than 1 horse for every two acres will not be able to withstand grazing for much more than a couple of weeks, especially during the dry summer season. Furthermore, if overstocked pastures become badly overgrazed, it is much more difficult and expensive to rehabilitate them with seeding and fertilizing. This type of pasture also tends to grow a variety of weeds and noxious plants. Hungry horses will eat whatever is available to them and this can be a problem if they ingest plants that are poisonous.
The best way to prevent overgrazing is rotation. If you have the pasture space available, it is best to divide the pasture into several paddocks and graze the horses in each paddock until they have eaten it down to about two inches, then relocate them to the next paddock and continue doing this as needed. This can easily be done with electric portable fencing. Each paddock should get about 4-6 weeks depending on the weather conditions or until re-growth is 4 to 6 inches high. Spring and fall is the time when every pasture should be reseeded and fertilized based on the results of a soil test. Doing this twice-yearly ensures the best possible growth and health of the pasture.
In a situation where you have limited pasture space and cannot rotate horses into another pasture, a sacrifice area might need to be established so your horse is still allowed turnout but without compromising pasture quality. For example, a dirt paddock where hay can be supplemented during turnout would work for giving your horse time outside of the stall while the pasture rests. If you do not have a sacrifice paddock available one can be made with temporary fencings, such as round pen panel or electrical portable fencing.
If none of the above options are available, simply supplying hay while the horses are out on pasture can help prevent overgrazing. If the pasture quality is low, the horses will eat the hay. If hay is available but not being consumed in the amount supplied, cut back the amount offered to ensure it is all eaten and not wasted.
Irrigation
Hot summer weather with little rain can quickly turn your lush green pasture into a sea of yellow stems. Irrigating paddocks by means of sprinkler systems, flood irrigation, or wheel irrigation, may be necessary to upkeep pastures during extremely dry or drought conditions. If irrigating your pasture is a possibility, the best time to irrigate is at night. Also, horses should not be left in pastures that are being irrigated as they may damage equipment or pasture plants in the saturated soil.
Toxic Plants, Weeds, & Manure Control
Pastures should be checked on a consistent basis for toxic plants, especially if pastures are low since a hungry horse will eat whatever is available. Know what common toxic plants are prevalent in your area and the signs of toxic plant ingestion.
Not managing your pasture properly can also increase the opportunity for weeds to invade and replace more desirable plant life. Mowing is the most common form of weed control and can help level out plant growth in pastures.
To further prevent uneven grazing and the appearance of weeds, manure must be properly managed and removed as needed. Too much manure in a paddock will cause horses to unevenly graze in order to avoid the contaminated area. Paddocks can be cleaned out or dragged with a harrow to move the manure around. Dragging with a chain harrows can help break up the manure piles, helping kill parasite larvae as well as fertilize the pasture. Chain harrowing may need to be done once a week or so if the pasture is stocked with quite a few horses.
In order to keep pastures in quality shape during the summer months, best management practices of rotating, letting pastures rest, irrigating, and controlling weeds and manure must be instilled. While managing pastures in the summer heat can be tiresome, it is necessary for the health and nutritional quality of both the pasture and the horse.
Amy M. Gill, PhD