Horse Safety Tips During Hot Weather
Posted | Tags: English, Health, Riding, Trailering, Training, Western
By Triple Crown Intern- Angie Smith
With summer here and temperatures rising across the U.S., it is important to know ways to keep your horse cool and safe in the heat.
Traveling
When traveling to shows in the summer, try to leave early in the morning or late at night when the temps are cooler and you have a less chance of hitting traffic. Horses traveling in trailers without AC in the middle of the day on the hot roads can become very hot for the horse. Horses can lose approximately 3-5kg of water per hour and can become dehydrated on long road trips during the day.
Water
Your horse must have fresh water available at all times. If you use buckets make sure they are never empty and make sure automatic waters are clean and cool.  Allow your horse water before & after you compete.
Warming-Up
Horses need less time to warm up muscles in hot weather. You should aim to reduce warm-up time by around 50%. After your warm up, find shade to stand in and you could offer water to cool the horse down. Reducing the horses' body temperature does not affect the physical effects of warming-up.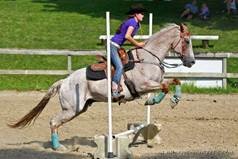 Competing
Summer is a big time for shows and competitions. Horses are not able to do the same amount of exercise in the heat as they are in cooler weather .Your horse produces more adrenaline in hot weather and that quickly uses up muscle energy. Dehydration also then becomes a problem. If you chose not to compete as hard when the temperatures are at the highest then your horse will be at less of a risk of a heat related illness.
Cooling
The most effective way to cool a horse is with cold water all over the body surface. Start with the legs and then hose the body.  You MUST scrape off excess water, as it can actually serve as insulation which would just increase the horse's body temp.  Hose and scrape and repeat until the horse is cool.
Rugs & Sheets
If you do put a sheet or fly sheet on your horse than make sure it is white or a very light color so that it reflects the heat and does not absorb it. The same goes for your own clothing, wear white if possible or light colors.
Signs That Your Horse May Be Suffering From The Heat
Lethargy
excessive breathing or "puffing"
Muscle spasms
Decreased appetite and thirst
Dark urine
Slow recovery after exercise
Abnormal heart rhythms
These are signs of heat exhaustion and if not managed properly and quickly then it could progress to a heat stroke. If a stroke does occur then you need to rapidly try to cool the horse and call a vet immediately.
On a related topic: When is it too hot to ride?  This handy chart is worth remembering!