Horse Trainer, Mary Miller Wild Mustang Report
Posted | Tags: horse care, Mustang, Trail Riding, Training
Within 36 days of meeting Silver Lining, a 5-year-old wild Mustang from Silver King, NV, horse trainer Mary Miller gets results.
When faced with a new environment, I like to use the Curious Cue to encourage a horse to use his curiosity to build confidence to face what scares him. For the Curious Cue to work, the horse must think forward, explore thoughts and keep his shoulders square, facing the feared object at all times. The American Competitive Trail Horse Association (ACTHA) ride Silver and I attended today was a perfect opportunity to test the cue.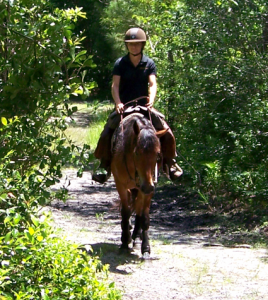 As we waited our turn to start the trail ride, we practiced the Curious Cue with a feared objectÓa concrete pad covered in fake grass. To initiate the cue, I faced Silver directly at the pad. He froze in fear, locking his eyes on it from 20 ft. away. At first, Silver's thoughts were fearful, not forward. The key to the Curious Cue is to guide the horse to want to think forward, not force him. By guiding forward thoughts with reassurance and encouragement, a horse builds confidence. We cannot force a horse to think the way we want them to, we can only guide them and set them up for success. ÏSuccess being defined as forward, exploratory thoughts, in this case, as long as Silver was looking at the pad, I let him look. As soon as his thoughts shifted away, I encouraged him directly forward again. When I did, he shot left as I totally expected. It was an excellent time to remind Silver to stay between my hips and legs at all times. I want him to realize that his shoulders are to Ïmirror my hipsÓthey are only to shoot left if my body shoots left. If my body stays square, his shoulders stay square under me.
I put my left leg on, tipped his nose left and guided his shoulder right to square him up to the pad again (it is important to guide a horse's shoulders square with the object first, then his face can line up as well, but shoulders must come first). As soon as our shoulders were square and we were facing the pad again, he locked onto it intently. After about 30 seconds, I felt his energy shift left and again I shifted his weight so his energy was square, and soon that energy transferred into forwarding thoughts! He did not take large physical steps, but he took forward steps with his mind as he stretched his neck out as far as it would go towards the pad. This was exactly what I wanted. I gave him all the rein and time he needed to stretch and think forward. Once he felt confident enough in his thoughts, I asked for a bit more forward energy. We continued this approach until his feet began to mirror his thoughts and we were right on the edge of the pad where he could actually stretch his nose out and touch itÓwhich he did.
Once he took a deep smell of the pad, his body melted in relaxation. I did not have to encourage much forward movement because his curiosity took over and just pulled us right over that pad. This is exactly what I had wanted Silver to understand. When I implement the Curious Cue, it means I actually want him to go put his nose right on the object he is afraid of. This cue becomes a way to show Silver that he has no need to fear scary things as long as his lead horse (the two-legged version) is there to guide him.
I can never expect to let Silver see and explore everything that scares him, but I can use the Curious Cue in any situation where he finds something scary. As soon as the Curious Cue is put into place, his mind switches gears from fear and flee to bravery and approach as he lets me guide his energy directly to that scary spot. We applied this cue to each new obstacle on the ACTHA ride and Silver recognized the Curious Cue more with each obstacle we faced. He received many great comments from the judges and ended up 3rd overall in the Open division. I couldn't be more proud and I am ecstatic to see what the future holds for this next member of our special mustang herd!